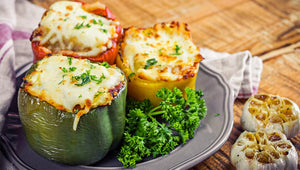 LASAGNA STUFFED PEPPERS
---
This is a delicious sweet bell pepper recipe, layered with tender pasta, copious amounts of cheese, sauce, and meat! Roasted on a Napoleon Gas Grill, a sweet pepper will develop a deeper flavor and a hint of smokey char which complements the savory meat and cheese filling.
INGREDIENTS
8 sweet bell peppers
6 to 12 lasagna noodles, cooked
15 oz. (450g / 1 container) ricotta
2 cups mozzarella, shredded
1 cup parmesan, freshly grated
1 egg, beaten
Freshly ground pepper to taste
1 lb. ground Italian sausage, cooked
Sauce 
2 cloves garlic, grated or pressed
1 medium-sized onion, diced
1 can tomato sauce
2 tsp. Italian seasoning blend
METHOD
Start by cooking the Italian sausage in a saucepan over medium heat either on the side burner or on your stove. Break larger chunks into finer crumbs for easier pepper-stuffing. Remove the cooked sausage from the pan and drain most of the fat, leaving a few teaspoons. 
Cook the onions in remaining sausage fat. Once the onions are mostly translucent and starting to caramelize, add the garlic. Add the tomato sauce and Italian seasoning and bring the sauce to a simmer. The sauce will develop more flavor the longer it simmers.
While the sauce is simmering, beat the egg, and fold it into a bowl with the ricotta, mozzarella, parmesan, and some freshly ground black pepper. 
Preheat your grill to 400°F using the outside burners and leaving the inside ones off for the indirect technique. 
Wash and cut the tops off the peppers, remove any seeds and membranes from inside the pepper and the top. Keep the tops for an awesome garnish if you like or cut off any remaining pepper for another meal like stir fry. 
Now it's time for assembly. Place one end of a cooked noodle into the pepper, draping the long end over the outside of the pepper. Add a layer each of sauce, meat, and then cheese mixture. Fold the pasta over top and press down. Repeat until you have filled the pepper. Top the final fold of pasta with a little more sauce and plenty of cheese.
Once you have filled each pepper, you can put the top back on if you like. Roast on the grill for 15 to 20 minutes, until the pepper is fork-tender and the cheese on top is browning and bubbly. 
Serve immediately with a fresh salad or some garlic bread.
---