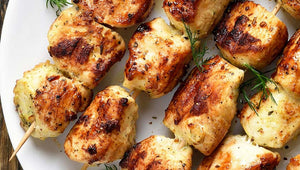 LEMONY CHICKEN KABOBS with YOGURT DIP
---
INGREDIENTS
32 ounces of boneless skinless chicken breasts or thighs
2-4 ounces extra virgin olive oil
3 tbsp freshly squeezed lemon juice
3 tbsp fresh minced coriander or parsley
2 tsp minced fresh garlic
1 tsp paprika
1 tsp salt
1/2 tsp cumin
1/4 tsp turmeric
1/4 tsp cayenne pepper
For the Dip
5oz plain Greek yogurt
2 tsp lemon juice
1/4 tsp lemon zest
1 tbsp chopped fresh coriander
1/2 garlic clove, finely minced
1 pinch dried ginger
Salt and freshly ground black pepper, to taste
METHOD
Cut the chicken into bitesize chunks for skewering. In a small bowl, whisk together the olive oil, lemon juice, coriander or parsley, crushed garlic, paprika, salt, cumin, turmeric and cayenne pepper. Place the chicken pieces in a glass dish. Pour the marinade over the chicken and stir to coat. Cover with cling film. Place in the refrigerator and let the chicken marinate for 20 minutes. We recommend using our Flexible Skewers, but if using wooden skewers soak them in water while the chicken is marinating.
Setup the EGG for direct cooking with the Cast Iron Searing Grid. Your target temperature is 400°F. Thread the chicken onto the Flexible Skewers, and cook on the hot grid for 10-12 minutes, turning frequently.
For the dip combine all ingredients in a small mixing bowl and mix thoroughly. Serve with the skewers.
Serves 4-6
---