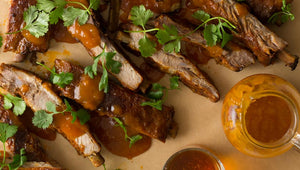 MANGO-HABANERO GLAZED SPARE RIBS
---
Memorial Day is coming up, which means another reason to bring out the grill and have a good old-fashioned cookout. Enjoy this recipe for amazing Mango Habanero Pork Ribs and have a safe weekend!
Ingredients:
1 (3 1/2 lb.) rack spare ribs

Dry Rub:
1 tablespoon garlic powder

2 teaspoon smoked paprika

1 teaspoon ground dry mustard

1 1/2 teaspoon sea salt

1 teaspoon cracked black pepper
Mango Habanero Glaze:
2 tablespoons extra virgin olive oil

1 yellow onion, diced

3 garlic cloves, minced

2 teaspoons grated ginger

1 1/2 cups diced mango

1 cup crushed tomatoes

3/4 cup fresh, 100% mango juice

2/3 cup light brown sugar

1/2 cup apple cider vinegar

1 tablespoon molasses

1 tablespoon Worcestershire sauce

1 lime, juiced

1 to 2 habanero chiles, seeded and diced

salt and pepper to taste
Garnish:
Instructions
For the Glaze:
Pour oil into a large saucepan and place over medium-high heat. 

Add onion, garlic, and ginger and sauté for 4 to 5 minutes. 

Season with salt and pepper. 

Add remaining ingredients and stir until completely combined. 

Bring mixture to a boil, then reduce heat to medium-low, cover and simmer for 20 to 25 minutes. 

Set aside and allow mixture to cool for about 30 minutes. 

Pour mixture into a blender blend until smooth. 

Pour mixture back into the pan and simmer for an additional 10 minutes. 

Adjust seasonings and set aside to cool. 
For the Spare Ribs:
Set EGG for indirect cooking (with Plate Setter) at 245°F.

Bring ribs to room temperature, peel the membrane off the back, and place ribs on a baking sheet.

Mix together all the dry rub ingredients until well combined. 

Smother ribs with the dry rub, on both sides, until fully coated (Some folks like to apply the dry rub on the ribs, wrap in foil, and refrigerate for 12 hours beforehand).

Place the ribs on the rack or grate and smoke for 2-3 hours.

Remove ribs, wrap in foil, and place them back on the rack/grate for another 2 hours.

Remove the ribs from the foil and smoke for another 30 minutes to an hour, brushing the glaze onto the meat side of the ribs every so often.

When ribs are tender and juicy, remove them and let the rest until you're ready to eat!

---