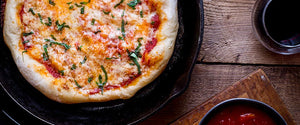 MARGARITA SKILLET PIZZA
---
Recipe courtesy of Cabot Cheese and Lodge Cast Iron.
Ingredients  Print
1 10-ounce ball of pizza dough, risen at room temperature*




flour for dusting




semolina or cornmeal for dusting




⅓ cup marinara sauce




3 ounces shredded Cabot Alpine cheddar




4 teaspoons chopped fresh basil



Instructions
Set EGG for direct grilling (no convEGGtor) at 500°F/260°C.




Place dough on a lightly floured surface. Gently spread dough out with fingertips and sides of your hands, keeping as much air in the outer/crust edge as possible. Stretch dough into a 10-inch circle. (Alternatively, roll out with a rolling pin.)




Sprinkle semolina lightly in the bottom of a 12-inch Lodge cast iron skillet. Lay pizza dough out in the prepared skillet. Spread marinara over the pizza dough, leaving a border for the crust. Sprinkle with Alpine cheddar.




Place the skillet on the EGG and close dome. Let pizza cook until it is puffed, the bottom is crisp and browned, the crust is starting to brown and the cheese is melted. Remove the entire skillet from the EGG with EGGmitt. Slide pizza onto cutting board with a spatula. Sprinkle with basil. Cut and serve.




*To let dough rise, portion 10-ounce ball of dough. Round with two hands by pressing into the work surface and spinning the dough in place. This will tighten the surface of the dough. Place on a surface dusted with flour and cover with plastic wrap that has been coated with cooking spray. Let rise 40 to 90 minutes before stretching out in step 2.



Makes 1 pizza
---