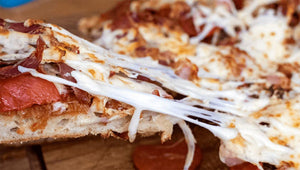 Meat Lover's & Vegetarian Pizza
---
The universe needs balance. Like when you grill a delicious meal, there should always be some vegetables to balance out that big and juicy steak. This recipe for Meat Lover's Grilled Pizza (a six meat delight) is balanced by a lovely and light vegetarian pizza. Enjoy a deep dish-esque, thick crusted delight that will meat the gastronomic needs of everyone around your table. The only question is, what will you choose?
INGREDIENTS
Meat Lover's Pizza
1 package premade pizza dough, unbaked
¼ cup melted garlic butter
2 tbsp. flour (approx)
2 tbsp. cornmeal
¼ to ½ cup pizza sauce 
6 slices prosciutto
¼ cup pancetta
¼ cup sliced chorizo
24 slices pepperoni
¼ cup cooked ground beef
2 slices bacon, cooked crisp and chopped
½ cup shredded mozzarella cheese
Vegetarian pizza
1 package premade pizza dough, unbaked
¼ cup melted garlic butter
2 tbsp. flour (approx)
2 tbsp. cornmeal
¼ to ½ cup pizza sauce
Sliced mushrooms (try something exotic like Enoki) 
Sliced zucchini
Sliced onion
Sliced peppers
METHOD
Place the pizza stone(s) onto the grill before you begin to preheat. Turn the grill on to medium, using all burners and preheat the grill to 400°F. 
While the grill is preheating, arrange all ingredients needed for dressing the pizzas onto a platter, or tray. Roll the dough out on a floured surface – if you are making more than one pizza repeat this process. 
Sprinkle your pizza peel with cornmeal and slide the rolled-out dough onto the pizza peel. Brush it generously with garlic butter.
Once the grill is up to temperature and holding steady, sprinkle the pizza stone(s) with cornmeal and slide the dough onto the stone. If you are doing more than one pizza, re-sprinkle the pizza peel with cornmeal, slide the second dough onto the peel, brush generously with garlic butter and place onto the other prepared pizza stone. 
Bake the dough for 5 to 10 minutes, or until the bottom has become solid but not deeply golden. If you notice that the dough is puffing up, stab it a few times with a fork before flipping it over on the stone. 
Carefully spread your dough with pizza sauce and then add the toppings. For the Meat Lover's pizza, start with a little sprinkling of cheese, followed by heaping helpings of ground beef, pepperoni, bacon, chorizo, pancetta, and a little more cheese. Finally, artfully drape the prosciutto on top and then top with even more cheesy goodness. 
For the vegetarian pizza, add a layer of sauce, a little cheese, onions, peppers, zucchini, mushrooms, and any of your other favorites, followed by even more cheese. 
Bake the pizza for another 5 to 10 minutes, or until the crust is golden and delicious, while the toppings are melted and bubbly. 
Remove the pizza from the grill using the pizza peel, leaving the stones on the grill to cool slowly as the grill does. Slice the pizza and serve to your hungry guests, much to their delight. 
---