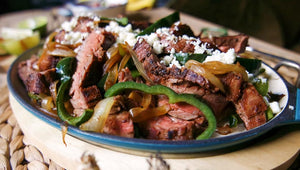 MEATCHELADA SKIRT STEAK FAJITAS
---
Inspired by Texas beer salt, MEATchelada is a chili lime seasoning that gives this skirt steak fajitas recipe a zesty kick. Its flavor profile works well with all proteins, but most importantly, MEATchelada enhances your food without overpowering it.
INGREDIENTS
2 lb skirt steak (you can use Hanger or Flank too)
Hardcore Carnivore MEATchelada Seasoning (enough to cover flank steak)
1 cup of pilsner style beer
1 cup tomato juice or Clamato
1 poblano pepper, seeded
1 white onion
1 green bell pepper, seeded
1 fresh lime
METHOD
Spread MEATchelada Seasoning over the skirt steak and massage in on both sides.
Place the skirt steak in a large ziplock bag and add the beer and tomato juice. Seal, then massage the outside of the bag to make sure all ingredients are well combined. Place bag in the fridge to marinade, one hour.
Thinly slice the onion, poblano and bell pepper. Place a skillet or frying pan over medium-high heat. Once heated, sauté the vegetables until the onions begin to caramelize, then remove from heat.
Prepare the EGG for direct cooking at 450°F.
Remove the steaks from the bag and discard the marinade. Pat the steaks dry with a paper towel to remove some of the surface moisture, then place onto the hot grill. Flip the steaks every 3-4 minutes, cooking for about 12-15 minutes all up, or until they reach an internal temperature of 135°F.
Once cooked, rest the steaks under a piece of foil for 10 minutes. Slice against the grain into strips, then combine with the onions and peppers. Squeeze fresh lime juice over the top and serve.
To serve as sizzling fajitas - place a cast iron skillet or fajita pan in a 400f oven to preheat for 15-20 minutes. Tip the steak and vegetable mix onto the hot pan, which will start to sizzle, and serve immediately. Use caution, the pan will be exceptionally hot.
Serves 6-8 Serving recommendation: pair the fajitas with tortillas, pico de gallo and fresh avocado.
---