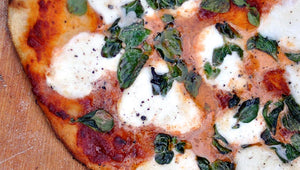 MEXICAN MARGHERITA PIZZA
---
When it comes to pizza, simple always wins: a well-made Margherita is pretty much unbeatable in our eyes. However, as we discovered, a Mexican Margherita gives it a good run for its money and here's how we did it. We topped a classic homemade base with the deliciousSmoked Chilli Ketchup in place of ordinary sauce. This was followed by slices of buffalo mozzarella (for even more Mexican you could use queso Oaxaca if you can get hold of it). Finally, we substituted basil with beautifully fresh & fragrant oregano leaves, a popular ingredient in Mexican cooking. Needless to say, this is well worth a go Big Green amigos!
Ingredients
For the crust:

250g strong white flour 

160ml water

25ml olive oil

5g sachet yeast

Good pinch of salt

For the toppings:
2 balls mozzarella

4 tablespoons Smoked Chilli Ketchup

6 sprigs oregano, leaves picked

Olive oil

Salt

Pepper

Semolina

Instructions
It's best to begin the dough the day before, so decide how many pizzas you'll want to make and adapt the ingredients as such.

Begin by adding the flour, water, salt and yeast to a bowl and mixing well until combined.

Empty out onto a clean worktop with a good splash of olive oil on it.

Knead the dough well for about 5 minutes. It will make a bit of a mess as it sticks to the worktop, but it should eventually come together. Don't be tempted to add more flour.

After 5 minutes, it will be a lot more elastic than when you began. Add a splash of olive oil to the mixing bowl and place dough back in and cover with a damp tea towel or cling film.

Leave overnight to rise.

The next day, about 2 hours before you're ready to eat, remove dough and separate into 2 portions (around 150g each). Place each base on a separate oiled plate and cover with cling film to allow to prove again.

Light coals in Big Green Egg and get it going. Set up for indirect cooking with the plate setter with legs down. You'll want all your vents fully open to achieve this temperature with an indirect setup. Place the pizza stone on top of the plate setter and then allow it to reach 370C.

Prepare a pizza peel by sprinkling a little semolina on it and spreading all over with your hand.

Sprinkle a little flour onto a work surface or rolling mat and carefully place dough on top, touching it as little as possible to keep the air in it.

Use a floured rolling pin to roll the dough into a circular shape a little larger than the size of your peel (don't worry about making it too accurate).

Very carefully use the backs of your hands/knuckles to peel the flattened dough away from the worktop and place onto the peel. It will probably shrink slightly as you do this. This may take a few attempts.

Shake the peel back and forth carefully to make sure the base isn't sticking. If it is, gently peel away the part that is sticking and sprinkle a little semolina/cornmeal underneath before laying back down. Alternatively, you could use a chopping board or a plate for this if you don't have a pizza peel.

Spread 2 tablespoons of Gran Luchito Smoked Chilli Ketchup over each base, using the back of a spoon leaving a small crust at the very edge.

Place mozzarella slices all over pizza evenly, followed by the whole oregano leaves. Finally, lightly drizzle with olive oil using your thumb to stop it coming out too quickly and sprinkle over a little salt and pepper.

When you're Big Green Egg reaches 370C, you're ready to cook.

Burp your Big Green Egg, then sprinkle a small handful of semolina/cornmeal all over the pizza stone.

Then swiftly but gently shake the pizza onto the center of the pizza stone. Close the lid and leave for around 5 minutes before checking (remember to burp). To check, carefully lift the edge of the pizza to see the bottom (this will be the first place to burn).

Remove when crust is nicely golden and cheese is melted and beginning to get color. Ideally, the crust of your pizza will bubble up in blisters and go nice and crispy.

Leave to cool slightly before serving.

---