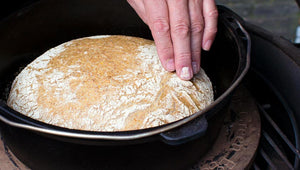 MULTIGRAIN NO-KNEAD BREAD
---
INGREDIENTS
4 cups 6-grain Flour
2½ tsp salt
2 tsp active dry yeast
2½ cups of water
METHOD
Mix the ingredients with a spoon. Allow to rise in a covered bowl at room temperature for 16 hours.
Dust your work space with plenty of flour, place the dough onto the surface and fold over itself multiple times, leaving the fold on one side. Continue until you have created a ball. Dust the bowl with flour and return the ball to it with the fold facing up. Allow to rise (covered) for another two hours.
Set the EGG for indirect cooking with the convEGGtor and a Baking Stone to 425°F/220°C.
Pre-heat the Cast Iron Dutch Oven in the EGG. Grease lightly with some oil and place the dough into the Cast Iron Dutch Oven. Bake the bread with the lid on the Cast Iron Dutch Oven for 30 minutes. Remove the lid and bake for an additional 20 minutes.
---