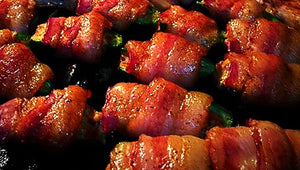 PECAN CHORIZO JALAPEÑO POPPERS
---
Ingredients
16 jalapeños (not too large so the bacon wraps around nicely)

1 package standard cut bacon

½ package pork chorizo

1 16 oz block of cream cheese

Deez Nuts Pecan Rub (substitute Honey Hog or Honey Hog Hot)

Instructions
Set the EGG for indirect cooking, with the convEGGtor and stabilize at 275°F.
We recommend oak, hickory or pecan wood for this smoke. There is something cool about pecan on pecan action thought! Heat a skillet over medium heat.
Fry the chorizo until it is fully cooked.
Drain the fat off when the chorizo is done.
Immediately mix the chorizo and cream cheese together in a small bowl. The warm chorizo will help soften the cream cheese.
Add Deez Nuts Honey Pecan rub to taste and mix well. A heavy dose is recommended. You aren't going to hurt it.
Cut the stem off and core each jalapeño. Remove all seeds. Leave the membranes in if you want the heat!
Cut the jalapeños in half and fill each jalapeño up with cream cheese mixture.
Wrap each jalapeño with a 1/2 slice of bacon.
Dust the tops of the jalapeño poppers with more Deez Nuts Pecan Rub. Smoke the peppers for an hour or until the bacon looks perfect!
Allow to cool 10 - 15 minutes and then enjoy one of our favorite appetizers!

---