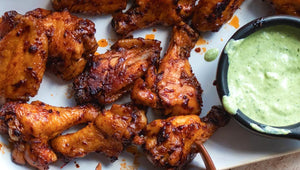 PERUVIAN CHICKEN WINGS
---
Recipe adapted from eatthelove.com
INGREDIENTS
For the Chicken Wings
3 tablespoons olive oil
6 large garlic cloves, forced through a press or minced
1 tablespoon ground cumin
1 tablespoon kosher salt
2 teaspoon coconut sugar or brown sugar
2 teaspoon paprika
1 teaspoon ground coriander
1 teaspoon dried oregano
1 teaspoon fresh ground pepper
Juice and zest of 1 lime
2 1/2 pounds chicken wings, broken into flats and drumettes (save the tips for stock or discard)
For Green Sauce
1 cup fresh cilantro
1/2 cup mayonnaise
1/4 cup sour cream
2 tablespoons olive oil
2 green Serrano peppers
2 large cloves garlic
1/2 teaspoon kosher salt
1/4 teaspoon fresh ground pepper
METHOD
Prep the chicken by placing the oil, pressed garlic, cumin, salt, sugar, paprika, coriander, oregano, pepper, juice and zest of the lime in a small bowl or glass measuring cup and stir until well blended.
Place the chicken wings in a 1-gallon ziplock bag and pour the marinade over them.
Seal the bag and then "massage" the chicken to make sure the marinade coats the chicken completely.
Refrigerate for 1 hour or up to 4 hours.
Light your charcoal and prepare your EGG for indirect cooking with the convEGGtor at 350°F.
Once the chicken has marinated, place the wings on the cooking grid.
Cook for 30 minutes and flip to the other side. Cook another 20 minutes and remove them from the EGG.
While the wings are cooking, place al the ingredients for the green sauce in a food processor or blender.
Process until all ingredients are well blended.
Pour into a bowl, cover and refrigerate while the chicken is cooking.
The sauce will seem thin but will thicken up as it sits.
Serve with the chicken.
---