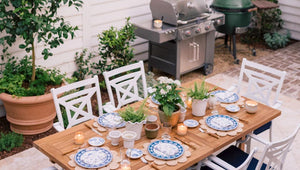 Planning the Perfect Outdoor Space [FINAL]
---
So, you've already set some important goals and you've brainstormed a list of must-haves for your perfect outdoor space. Now it's time to turn those plans into actions and make your backyard dreams become a reality.
Making Your Dreams A Reality
With seemingly endless options available, a little help from Outdoor Home can help ensure you choose the right pieces for your space, while also staying on budget, so you have an outdoor space you're truly happy with. Here are some tips to keep in mind when you visit our showroom.
Design for the Space
Before you head into our showroom, take a few photos of your backyard and measure distances between major landmarks (trees, home, shed, etc.). As you're choosing your patio furniture, fire pits, and other pieces, you'll be able to get an idea of the best sizes and shapes for your particular space. This will also help our patio professionals match elements that fit your goals and must-haves.
Once you refresh your outdoor space, you can come home and head right outside into the relaxing and rejuvenating comfort of your own backyard. You'll be looking for any excuse to have family and friends over on the weekends and you'll be the envy of the neighborhood.
Setting A Budget
You've measured, taken pictures, and created your dream layout but now it's time to search for pieces that fit into your project budget. As you're crunching the numbers, remind yourself that your outdoor space is an investment in your home that rewards you for 10-20 years while you live there (and makes your home easier to sell). A well-thought-out backyard also gives you something money can't buy.  It buys back more family time and allows you to live a lifestyle that will pay itself back tenfold.
It's better to invest in higher quality products that'll last for years and avoid replacing cheap products every season. At Outdoor Home, we can help you stay on budget while offering choices that minimize the stress of shopping.
Seeing and Feeling
Online research can help you get started, however, nothing beats actually seeing the finishes and feeling the fabrics in-person before you make a decision. Quickly, you'll be able to see what goes well together and envision specific pieces in your own space. This is an important investment in your home and lifestyle, so it's crucial to make sure you're getting pieces that you absolutely love.
Don't be afraid to test-out our patio furniture like "Goldilocks" and ensure the cushioning and materials are just right. Have our patio professionals fire up the gas fire pit so you can see the dancing flames right in the showroom. 
Personalize Service
As a local retailer, Outdoor Home offers more than just products. Our patio professionals can answer any question you may have and guide you through the entire process from start to finish. From fabric catalogs to pellet grill spec-sheets, our staff knows every product inside and out so you can rest assured everything is properly planned, built, and installed. 
When you work with Outdoor Home, your patio projects become easier, more enjoyable, and stress-free to complete! Now, you can be confident in your choices and indulge in a lifestyle you've always dreamed of.
---
Can backyard living really restore the soul? At Outdoor Home, we wholeheartedly believe it can. Schedule an appointment and we'll assign a patio professional to your specific project.
---