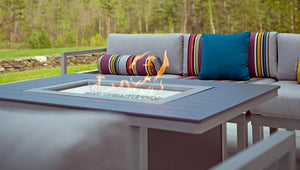 Planning the Perfect Outdoor Space [Part 2]
---
After considering the goals for your outdoor space, it's important to make a list of your must-haves in the backyard. Options like an umbrella for shade or a fire pit for warmth help you start envisioning your deck or patio design.
BRAINSTORMING YOUR BACKYARD DESIGN
But which components should you include in your design? Let's break down some options.
---
---
FIRE FEATURE
With any design, beginning with a central piece is key and a fire feature is a good place to start. You can bet that a fit pit adds value to your home in terms of dollars and cents, but it also adds a feeling of sophistication and elegance that is sure to be the focal point of your backyard space. It keeps everyone cozy, provides that warm glow at night, and invites guests outdoors to keep the party going.
---
---
Fire pits and Fire tables are often available in gas or wood-burning setups and come in a wide variety of shapes and sizes to fit your specific style. Imagine spending your nights toasting marshmallows or enjoying a glass of red wine as the open flames dance before your eyes. By incorporating a fire pit into your backyard, you can enjoy summer nights or winter gatherings around a self-contained fire that offers heat, beauty, and elegance.
---
---
PATIO FURNITURE
The right patio furniture brings comfort and function to your outdoor spaces. With a spacious table and comfortable chairs a basic patio is transformed into a sensory-rich dining destination. Outfit your cozy porch with a wicker sofa, ample cushions, and a classic rocking chair and your porch quickly becomes a second family room. Begin your selection process by thinking about how you would like your outdoor space to function.
---
---
Would you like it to serve as a dining area on warm summer nights? Would you like to host your next dinner party or your kid's birthday party in the space? Is a peaceful reading nook more of what you're looking for in your outdoor room? Make a list of the many things you would like to do in the space and use it as a guide to determine what type of furniture is necessary for your perfect outdoor oasis.
---
---
OUTDOOR KITCHEN
For many homeowners, an outdoor kitchen represents the height of entertaining luxury. Whether you imagine yourself flipping burgers to the applause of your friends or sipping wine while a crispy pizza bakes over a hot fire, one of the great benefits of an outdoor kitchen is that it extends your living and entertaining space. The first step is planning your layout. Layout is just as important in an outdoor kitchen as it is for an indoor one.
---
---
While an indoor kitchen is typically defined by the walls, doors and windows that surround it, an outdoor kitchen often defines the space on its own. After determining a layout, this is also a good time to consider what types of appliances you'd like built into your outdoor kitchen area. BBQ Grills, Smokers, Built-In Refrigerators, and even Kegerators are all possibilities to consider in your layout.
---
---
GRILLS & SMOKERS
The backyard barbecue is an integral part of the American experience. And though you may take great care in selecting and preparing the foods you serve, the success of your meal often comes down to the quality of your grill. Because you've have so many options between gas, charcoal, or pellets you shouldn't rush into buying a grill before you do some research. It could be one of the essential features of your outdoor space and a good place to invest a big chunk of your budget.
---
---
Gas grills are convenient, ignite at the push of a button, and allow you to control the heat with the turn of a knob. Charcoal grills have a more versatile temperature range giving you the ability to cook low-and-slow and impart a natural, smoky flavor to your food. Pellet grills offer a wood-kissed flavor while using digital thermostats to increase temperature control.
---
---
UMBRELLAS
Protect your family from the harsh rays of the sun, shield your eyes from an afternoon glare, and get a reprieve from the sweltering summer heat all with the simple addition of a patio umbrella. When you're throwing shade on a lounge or play area, choose an umbrella that covers as much of the space as possible. The extra shade provides a fuller glare-free experience depending on where the sun is in the sky.
---
---
The easiest way to choose an umbrella shape is by complementing the furniture your umbrella will be covering. If it will be covering a square table, make the canopy square as well. Have a circular seating arrangement? Go with round, octagonal, or hexagonal umbrellas for full coverage. Choose a fabric, like Sunbrella, that's durable, fade-resistant, easy to clean, and comes in hundreds of fabric colors/patterns.
---
---
OUTDOOR RUGS
Ground patio furniture by placing it on an all-weather rug. Begin by selecting the material of your rug. It might not seem as important as colors or patterns, but it makes a big difference down the road. Your outdoor rug material determines how much time you will have to spend on maintenance. Conditions such as moisture and UV rays can...
---
...deteriorate your rug over time, so it is important to stay vigilant and make a quality choice the first time. Both synthetic and natural fiber outdoor rugs are offered in a veritable rainbow of colors and patterns. Geometrics, stripes, and medallions are among the most popular styles, but there are also bold florals, tropical looks, and novelty designs available. Soft underfoot and rich in texture, an outdoor rug will lend the comforts of indoors and put the finishing touch on your outdoor space.
---
---
Can backyard living really restore the soul? At Outdoor Home, we wholeheartedly believe it can. Schedule an appointment and we'll assign a patio professional to your specific project.
---