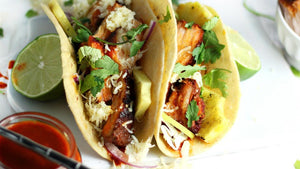 PORK BELLY TACOS & CHIPOTLE-GUAJILLO SAUCE
---
Recipe adapted from droolworthydaily.com
INGREDIENTS
For the smoked pork belly:
3 pounds pork belly (single slab)
1/2 teaspoon chili powder
1/2 teaspoon cumin
1/4 teaspoon paprika
1/4 teaspoon salt
1/4 teaspoon black pepper
For the guajillo sauce: 
8 medium dried guajillo chilies, chopped, de-seeded
1 chipotle chili in adobo, chopped
1/2 teaspoon dried oregano
1/2 teaspoon ground cumin
1/4 teaspoon black pepper
3 garlic cloves, minced
2 (14-ounce) cans broth (veggie or chicken) 
1 tablespoon olive oil
1 teaspoon sugar
For the taco assembly: 
8-10 tortillas
12 ounces shredded gouda cheese
1 pineapple, sliced into rounds
12 ounces shredded cabbage
1 red onion, thinly sliced
1 bunch cilantro
Salsa (for serving)
Sour cream (for serving)
METHOD
Set your EGG for indirect cooking with a convEGGtor at 250°F.
In a large skillet over medium heat, add olive oil, garlic, and chilies. Saute until chilies are charred, about 7-10 minutes. Combine all sauce ingredients in a blender and blend on high until smooth. 
Cut the slab of pork belly into 4 equal pieces. Season all sides (except the skin/fat) with the chili powder, cumin, paprika, salt, and pepper. 
Smoke for 2 hours (skin/fat-side up). 
Meanwhile, prepare the braising pan. Line a large oven-safe pan with heavy duty foil. Pour all the chili sauce into the bottom.
After the pork is finished smoking for 2 hours, transfer to the pan (placing the pieces skin/fat-side-up). Smoke for another 2 hours at 250°F. 
The pork will have smoked for a total of 4 hours.  
Remove your convEGGtor from the EGG and set aside (safely).
Lay pineapple slabs on the grill for 3-5 minutes per side over direct heat until slightly charred. 
Remove and chop. 
With tortillas, cabbage, pineapple, pork belly, red onion, cilantro, salsa, sour cream, etc. 
---