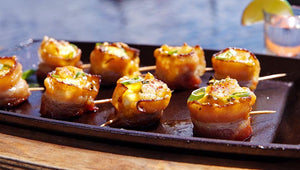 PORK SHOOTERS
---
INGREDIENTS
1 pound kielbasa or andouille (2 to 3 links, preferably straight—not in a ring)
8 slices thick-cut bacon, each slice halved crosswise
8 ounces cream cheese, cubed
8 ounces coarsely grated sharp cheddar cheese (2 cups)
4 scallions, trimmed, white parts minced. green parts thinly sliced (set aside 3 tablespoons scallion greens for garnish)
½ pound shrimp, peeled and diced into 1/2-inch pieces
2 teaspoons Old Bay Seasoning
METHOD
Make the kielbasa and bacon "shot glasses."
Slice the kielbasa crosswise into rounds about 1/4-inch thick.
Wrap each snugly with 1/2 slice of bacon; pin with a toothpick. Repeat with the remaining rounds of kielbasa.
Fill each "shot glass" with a cube or two of cream cheese, cheddar cheese, scallions, and shrimp, leaving some space at the top (the bacon will shrink as it cooks).
Top with Old Bay Seasoning.
Set up your EGG for indirect cooking at 400°F. (The higher temperature will render the fat from the bacon.) 
Arrange the shots on the cooking grate (use a perforated grill pan for easier clean-up, if desired) and cook for 15 to 20 minutes or as needed, until the bacon is crisp and the filling is bubbling.
Let cool for 5 minutes, then remove the toothpicks.
Sprinkle with the remaining scallion greens and serve.
---