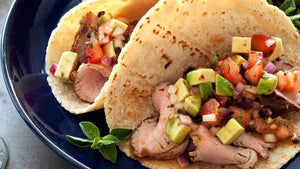 PORK TENDERLOIN TACOS
---
Ingredients
4 pork tenderloins (about 4 pounds) 
For Dry Rub
2 teaspoons smoked paprika
2 teaspoons ground cumin 
1 teaspoon garlic powder 
1 teaspoon dried oregano 
1/2 teaspoon cinnamon 
2 tablespoons extra-virgin olive oil 
Kosher salt and freshly ground pepper
For Salsa
1/2 small red onion, cut into 1/4-inch dice 
2 tablespoons red wine vinegar 
1 medium tomato, cut into 1/2-inch dice 
1 Hass avocado, cut into 1/2-inch dice 
1 teaspoon minced chipotle in adobo 
1/2 teaspoon chopped fresh oregano 
3 tablespoons extra-virgin olive oil
Method
In a small bowl, combine dry rub ingredients.
Rub tenderloins with olive oil and sprinkle with spice rub.
Set EGG for direct cooking (no convEGGtor) at 400°F.
Grill pork, turning as needed, until lightly charred and meat thermometer inserted in thickest part registers 135°F, about 9 minutes.
In a medium bowl, mix the onion with the red wine vinegar and let stand for 10 minutes.
Add the tomato, avocado, chipotle, oregano and olive oil, season with salt and pepper and toss gently.
Fill warm tortillas with the sliced pork, top with the salsa and serve.
---