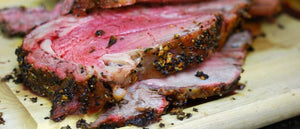 PRIME RIB ROAST
---
Ingredients
1 NorthStar Bison Prime Rib Roast, (bison or beef)




3-4 garlic cloves, minced




Olive oil (as desired)




3 tbsp NorthStar Seasoning or your favorite seasoning mix or rub



Instructions
Coat thawed or fresh roast with olive oil and cover with garlic and seasoning. Wrap with foil and marinate in the refrigerator for 12-24 hours. Take out of refrigerator and remove foil 1 hour before putting in oven.




Set EGG for indirect cooking at 500°F/260C.




Place meat on a Half-Moon Cast Iron Griddle or a flat cookie sheet. Braise meat for 10 minutes on each side. This gives is a crust to seal the juices in.




Lower the EGG temperature to 200°F/93°C and allow meat to cook for approximately 40 minutes.




Use a meat thermometer to check internal temperature. 140°F/60°C internal temp will be rare. Remove roast and let set for 15 minutes before cutting and serving.




Note: A standing Rib Roast will take a little longer to cook.



---