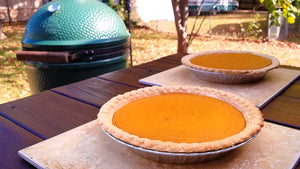 Pumpkin Pie on the Big Green Egg
---
When it comes to Big Green Egg recipes, Dave is definitely a pro - so it's not surprising that he's able to whip-up a seriously delicious pumpkin pie. All the warm spices are there - cinnamon, vanilla, nutmeg - but Dave adds another ingredient that takes this classic #Thanksgiving dessert to another level.
Ingredients
1 (8-ounce) package cream cheese, softened
2 cans canned pumpkin, mashed
1 cup sugar
1/4 teaspoon salt
1 egg plus 2 egg yolks, slightly beaten
1/2 cup half-and-half
1/4 cup (1/2 stick) melted butter
1 teaspoon vanilla extract
1/2 teaspoon ground cinnamon
1/4 teaspoon ground ginger, optional
2 pre-made pie dough in foil pans
Method
Set up the EGG for indirect cooking at 350°F
For the filling, in a large mixing bowl, beat the cream cheese with a hand mixer.
Add the pumpkin and beat until combined.
Add the sugar and salt, and beat until combined.
Add the eggs mixed with the yolk, half-and-half, and melted butter, and beat until combined.
Finally, add the vanilla, cinnamon, and nutmeg. Beat until combined.
Pour the filling into the warm prepared pie crusts and bake for 50-60 minutes, or until the center is set.
Once baked, place the pies on a wire rack and cool to room temperature.
Place in the refrigerator overnight to help the pies set.
---