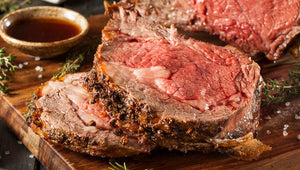 RAY LAMPE'S HERB BUTTER PRIME RIB
---
It pairs just as well with a beer as it does with a big red wine. Serve it in thick slabs or slice it thin for sandwiches. You can cook any size roast to fit the size of your crowd as long as you use an instant read thermometer and you take it out when it reaches an internal temp of 125°. Only the time will vary and don't forget to rest it for 15 minutes no matter the size."
Ingredients
5-pound boneless ribeye roast

Kosher salt

Black pepper, coarse ground

2 sticks of butter, at room temperature

4 cloves garlic, crushed

¼ cup chopped fresh thyme leaves

¼ cup chopped fresh tarragon leaves

¼ cup chopped fresh parsley

Au Jus and Horseradish Sauce for serving

Instructions
Set the EGG for indirect cooking with the convEGGtor at 325°F/163°C.
Season the roast liberally with the salt and pepper. In a medium bowl, mix together the butter, garlic, and herbs.
Spread the herb butter evenly all over the roast.
Place roast on the cooking grid.
Cook it until it reaches an internal temperature of 125°F/52°C in the center for medium-rare.
This will take about 1 and 1/2 to 2 hours.
Remove to a platter and tent loosely with foil.
Let rest for 15 minutes.
Slice thick for prime rib type slabs or thin for a roast beef presentation.
Makes 6-8 servings

---