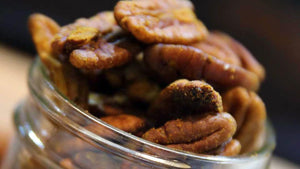 ROASTED MASALA SPICED PECANS
---
Ingredients

6 oz. shelled pecans

1 Tbsp lemon juice

2 Tbsp melted coconut oil

2 tsp demerara sugar

2½ tsp ground cumin

½ tsp ground coriander

1 tsp hot curry powder

¼ tsp ground cinnamon

2 tsp garam masala

1 tsp ground black pepper

1 tsp cayenne pepper, or to taste

1 Tbsp salt, or to taste

Instructions
Set the EGG for indirect cooking with the ConvEGGtor at 300°F.

Place the pecans in a medium bowl and cover with water; soak for 10 minutes. Drain

the pecans, then toss them in the melted coconut oil.

In a small mixing bowl combine the spices and toss the pecans in the spice blend. Place

the nuts on a perforated pan and smoke for 30 minutes, stirring them every 10 minutes

to cook evenly. 

---