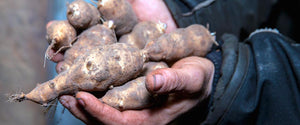 ROBERTO'S JERUSALEM ARTICHOKES WITH CURD
---
Experience the Taste of Berlin
Nobelhart & Schmutzig is special in many ways, although as an unsuspecting passer-by you'd likely walk right by it on Friedrichstrasse near the site of Checkpoint Charlie in Berlin. Swiss-born Micha Schäfer is the executive chef at Nobelhart & Schmutzig, and he and his crew guide guests through each evening's meal, presenting and explaining each progressive course … everyone enjoying the same dishes at a long counter built around the kitchen – with Big Green Eggs at the heart of the restaurant.
Roberto Vena, one of the restaurant's vegetable providers, has a barn that is made of clay, and he grows moss and herbs on the roof of his trailer. He makes everything himself, including his own soap and honey.
"We purchased our first EGG to be able to grill in the kitchen, but we now use them for various other cooking techniques as well," says Chef Micha. "For instance, we pre-cook Jerusalem artichokes in combination with the convEGGtor, and we finish them off by grilling them."
Jerusalem artichokes, or sunchokes, are starchy tubers like potatoes and turnips, and when roasted in the EGG the flesh is nutty and sweet and the outer skin is flaky and delicious. Roberto only harvests the tubers after the end of the frost period so that they can develop more natural sugars.
Ingredients
1-liter raw milk

1 large tablespoon sour yogurt

18 oz (500 g) Jerusalem artichokes

Rapeseed oil

Instructions
For the Curd

Two days in advance: Heat the milk in a saucepan on the stove to 180°F/82°C. Turn off the heat and allow to cool to a temperature of 105°F/41°C. Stir in the yogurt and leave in the oven for 24 hours at a temperature of about 104°F/40°C until the milk mixture acquires a firm texture.

One day in advance: Place a piece of cheesecloth in a colander and place it on a bowl. Transfer the milk mixture into the colander and leave it to drain overnight in the refrigerator.

Set the EGG for indirect cooking with the convEGGtor at 400°F/204°C.

Wash the artichokes, pat dry and brush with rapeseed oil. Place the artichokes on the grill, close the lid of the EGG and cook 20 minutes.

Remove the artichokes from the grid. Using an EGGmitt or Silicone Grilling Mitt, carefully remove the convEGGtor; bring the temperature of the EGG back up to 350°F/177°C. Halve the artichokes and put them skin side down on the grid. Close the lid of the EGG and grill for approximately 20 minutes.

Remove the artichokes from the EGG when the skin is crisp and sprinkle with salt. Spread on plates and place a generous spoonful of curd alongside.

---