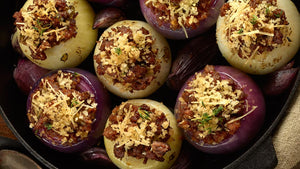 SAUSAGE-STUFFED ONIONS
---
Ingredients
(8) small onions, peeled
1 tsp olive oil
1 1/4 lb spicy pork sausage
5 cloves garlic, minced, divided
1/2 tsp kosher salt
1 tsp ground black pepper
1 tsp dried oregano
1/2 tsp crushed red pepper
1/3 cup grated Parmigiano Reggiano cheese
1/4 cup panko
1/4 cup butter, melted
1 cup beef broth
3 shallots, cut into chunks
2 sprigs fresh thyme
Method
Set the EGG for direct cooking at 375°F.
Add 2 quarts water to a dutch oven and place on the cooking grid. When the water comes to a boil, add the onion and cook for about 15 minutes until tender; remove from the water and cool.
Cut off the tops and hollow out the onions, leaving 2 outer layers intact. Finely chop 1/2 cup of the scooped out centers.
In a cast iron skillet, heat the oil. Add the chopped onion and cook until translucent. Add sausage, 2 cloves garlic, salt, 1/2 tsp black pepper, oregano, and red pepper.
Cook until browned; remove from the skillet and wipe the skillet with a paper towel.
In a bowl, combine the cheese, panko, remaining black pepper, and oregano; stir in melted butter.
In the skillet, combine the broth, wine, shallots, remaining garlic, and 1 sprig thyme.
Spoon the sausage mixture into hollowed out onions and add to the skillet.
Bake for 20 minutes then sprinkle with the panko/cheese mixture.
Bake for an additional 20 minutes until the topping is golden brown.
Garnish with thyme and serve!
---