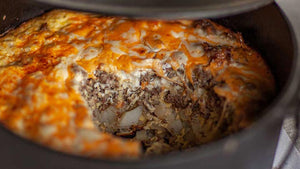 Simple Dutch Oven Breakfast
---
Ingredients
1 lb. ground sausage
1 onion, chopped
1 30-oz bag of shredded hash browns
1 tbsp olive oil
1 8-oz bag of shredded cheddar cheese
6 eggs, scrambled
Salt and pepper to taste
Instructions
Set the EGG for indirect cooking with a convEGGtor at 375°F/191°C; add the Dutch oven to the EGG to preheat.
Add the sausage to the Dutch oven and cook until fully cooked.
Remove from the Dutch oven and set aside.
Add the olive oil and onion to the Dutch oven and cook for 2-3 minutes.
Add the hash browns to the Dutch oven, season with salt and pepper, and cook for 10-12 minutes.
Pour the eggs on top of the hash browns and cook for another 3-4 minutes.
Add the sausage back to the Dutch oven and top with the cheese.
Cook for another 2-3 minutes or until the cheese is melted.
Remove from the EGG and serve with biscuits. Enjoy!
---