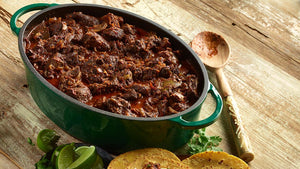 SMOKED BEEF BIRRIA
---
Recipe courtesy of Claudette Zepeda-Wilkins from the 2018 Big Green Egg LifeStyle Magazine available for FREE at Outdoor Home!
Ingredients
8lbs beef short ribs
Adobo
Tortillas
Adobo Ingredients
8 guajillo chiles
5 ancho chiles
10 garlic cloves
1/2 oz ginger
2 medium onions
2 cups water
2 tsp freshly ground black pepper
1/2 tsp ground cloves
1/2 tsp oregano
8 sprigs thyme
1/2 tsp ground cinnamon
4 bay leaves
3 tsp salt
4 tbsp vinegar
Method
Set your EGG for indirect cooking with the convEGGtor at 350°F.
In a Dutch oven, cook chiles, garlic, ginger and onions in a pot with water, until chiles are tender.
Drain the water and process the mixture together with the rest of the adobo ingredients.
Clean the short ribs and marinate in 1/2 of adobo mix for 2-3 hours.
Remove from the marinade; add to the grid and smoke for 4 hours.
Move the beef ribs to the Dutch oven and cover with the remaining adobo; move the Dutch oven to the EGG and cook for an additional 4 hours.
Enjoy with optional minced onion, cilantro, and limes accompanied by tortillas!.
---