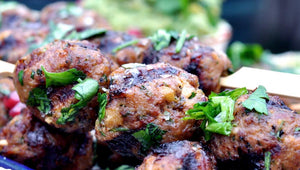 SMOKED CHILI MEATBALLS
---
The secret to these delicious little meatballs, besides a healthy amount of Smoked Chilli Paste, is the milk-soaked breadcrumbs. This gives them a beautifully light, fluffy texture and once you've had one you won't be able to stop. Luckily this recipe makes quite a few.
INGREDIENTS
For Meatballs:
5oz full-fat milk
4oz panko breadcrumbs (or use whizzed up cream crackers)
12oz minced beef
8oz minced pork
1 onion
1 garlic clove
2 teaspoons Gran Luchito Smoked Chilli Paste
1 handful parsley, finely chopped
1 teaspoon dried oregano
2oz pancetta/bacon
Salt
Pepper
For Guacamole:
3 ripe avocados
2 spring onions, finely sliced
5 ripe cherry tomatoes, deseeded and diced
A handful of fresh coriander, roughly chopped
Juice of 1 lime
1 small jalapeno, deseeded and roughly chopped
METHOD
If using wooden skewers, soak them in water so they don't burn during cooking. Do this at least an hour before you begin cooking.
Set your EGG up for indirect cooking, with the ConvEGGtor (legs up)4and the Cast Iron Searing Grid on top. The target temperature is 400°F.
In a large mixing bowl, combine the breadcrumbs with the milk and stir. Leave to soak in while you prepare the other ingredients. If using cream crackers, simply whizz these up in a food processor.
Using the Cast Iron Plancha (flat side up), Dutch Oven or a saucepan with a heatproof handle, and add a little olive oil to the pancetta/bacon bits and cook for around 10 minutes, stirring every now and again to prevent from burning.
Remove from EGG, then set aside.
Continue to make the meatball ingredients. Add the onion and garlic to a food processor. You're aiming to get them as close to a paste as you can.
Add onion and garlic to the pancetta/bacon, along with oregano and Gran Luchito Smoked Chilli Paste. Stir and return to the Big Green Egg to cook for about another 10 minutes, stirring occasionally.
Add a splash of water, stir, and continue to cook until evaporated. Remove from the EGG and lower the temperature (as the meatballs will set in the fridge for a while) before grilling.
In a large mixing bowl, combine the cooled pancetta mixture with the soaked breadcrumbs, the minced beef and pork, parsley and a good pinch of salt and pepper.
Mix well with your hands, and form into 1in balls. Pile on a plate and refrigerate for at least an hour.
Skewer the balls onto wooden/metal skewers and brush a little olive oil over as much of the surface of the meatballs as possible.
Place skewers onto the cooking surface and leave them to cook for a few minutes before turning. If they stick, use a metal spatula to work them away from the grill, but this shouldn't happen if you turn them at the right moment. As they become nicely golden and slightly charred all over, remove them from the cooking surface and place them in the dish to finish cooking through.
Once done, remove the dish and set aside to rest for 10 minutes under foil. Now's a good time to prepare guacamole, pomegranate and any other sides you fancy.
In a pestle and mortar, add about half of the spring onion and coriander and all the chili along with a sprinkle of coarse sea salt. Mash to a paste.
Remove stones and skin from avocado and add to a bowl with onion/coriander paste. Mash with a fork, leaving it slightly chunky for a bit of texture.
Throw in the tomatoes, the remaining coriander and spring onions as well as the lime juice. Gently fold it together and add more salt and lime juice to taste.
Sprinkle with a little chopped coriander to serve.
---