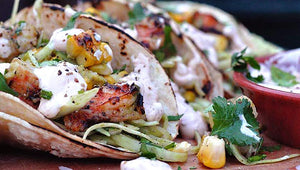 SMOKED CHIPOTLE & ZESTY LIME PRAWN TACOS
---
Get your hands on some lovely big, juicy king prawns for this fresh recipe perfect for barbecue month. Not only did we use a Smoked Chilli Lime Paste to marinade the prawns, we also stirred some through crème fraiche for a tasty little sauce to dollop on top. Recipe adapted from Gran.Luchito.com
Ingredients
8 king prawns, raw

2tsp Smokey Lime Chilli Paste

2 ears of corn, de-husked

2tbsp olive oil

¼ white cabbage, finely shredded

Bunch of fresh coriander, roughly chopped

4/8 corn tortillas (you can double-layer them for a more filling meal & extra strength)

1 lime

1 ripe avocado, diced

Salt

Pepper

Instructions
Set up to cook directly on the cast iron grill on top. Target temperature 400°F.

In a shallow, wide bowl, add 1tbsp olive oil and a good pinch of salt & pepper.

Roll de-husked corn on the cob in oil and place on Big Green Egg.

Close lid and check back in 3-4 minutes or so, turning when the bottom is nicely browned and slightly charred. Take care to burp the EGG when opening lid at these temperatures.

Meanwhile, shell shrimp and remove back vein with a sharp knife (you can make a lovely stock with the shells if you like!) In the same bowl as you used to oil the corn, add 1tsp of Gran Luchito Smoked Chilli Lime Pickle.

Stir with the remaining oil and then add the prawns. Leave for a few minutes while the corn finishes.

Remove corn and add the prawns to the EGG. These won't take long, so don't leave them unattended. Lower lid and give them about 2 minutes before turning them. Ideally, you'll get a nice char on the very edges of the prawns, whilst the rest is nicely browned and the inside remains tender and juicy.

Remove prawns and snuff out your EGG if not cooking other dishes. You'll use it again to warm the tortillas but it will retain the heat without being lit.

Chop the prawns into bite-size pieces and cut corn away. Place both in a mixing bowl along with the roughly diced avocado, a handful of roughly chopped coriander, juice of half a lime, shredded cabbage, a drizzle of olive oil, salt, and pepper.

Mix well but gently (you don't want too much the avocado too much).

Warm the tortillas on the cooling EGG.

Stir remaining Gran Luchito Smoked Chilli Lime Pickle into the crème fraiche.

---