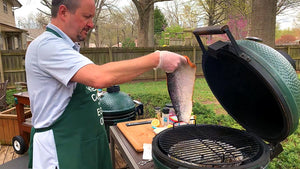 Smoked Salmon Filet on the Big Green Egg
---
Perfectly smoked salmon is one of those simple exquisite indulgences that is so satisfying.
The goal is to strike the right balance between the delicate flavor of the salmon, the smoke, salt and a little sweetness.
When those elements come together in harmony, you get something that's delicate and flakey with a succulent texture.
Watch our video and learn how you can master smoked salmon cooked entirely on the Big Green Egg.
---