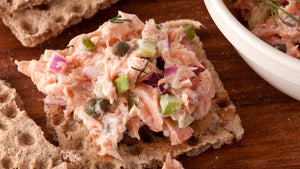 SMOKED SALMON SALAD
---
By: David Wolfe

Ingredients
1 pound smoked salmon
Big Green Egg Citrus & Dill Seasoning, to taste
2 Tbl extra virgin olive oil
1-2 Tbl freshly squeezed lemon juice
2 Tbl red onion, finely diced
2 Tbl capers 
¼ cup celery, finely diced
Instructions
Set Egg for indirect cooking at 250-275 degrees. 
Liberally apply Big Green Egg Citrus and Dill Seasoning to the flesh side of the salmon.
Smoke with alder chips or chunks. The USDA recommends cooking to a minimum internal temperature of 145 degrees Fahrenheit. 
Flake the salmon and allow it to cool to at least room temperature.
Combine oil, lemon juice, red onion, capers and celery in a bowl. Lightly stir.
Add the salmon and gently stir to incorporate all ingredients.
Add additional Citrus & Dill Seasoning if desired.
Chill and serve as a sandwich or on mixed greens as a salad.
---