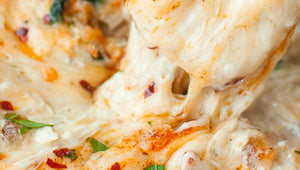 SMOKED SEAFOOD DIP
---
We're obsessed with this skillet baked seafood dip with crab, shrimp, and veggies. It'll be the first dish licked clean at your next party or potluck!
Ingredients
1/2 lb fresh/defrosted raw shrimp

4 ounces lump crab meat, shredded

1-2 TBSP butter

1/2 cup onion, finely diced

1/2 cup green bell pepper, finely diced

1/4 cup celery, finely diced [optional]

1 TBSP jalapeno, minced

1/2 cup chopped spinach

3 cloves of garlic, minced and smashed into 1/4 tsp salt

1 tsp Old Bay seasoning blend

3-4 ounces cream cheese

2.5-3 cups freshly grated Gouda cheese [not smoked]

1/2 cup Gruyere cheese

A pinch of red pepper flakes [optional]

1/4 tsp chopped parsley

Paprika, to taste

Baguette or Chips

Instructions
Preheat your EGG to 250°F. 

Prep shrimp and crab as needed by defrosting, cleaning, peeling and deveining your shrimp and shredding your crab. 

Once prepped, chop the raw shrimp and set aside.

Next chop your veggies finely, so they'll mix seamlessly into the dip.

Butter your cast iron skillet with a tablespoon or two of butter and saute the onion, bell pepper, celery and jalapeno until tender.

Next add in the spinach, salted mashed garlic, and Old Bay.

Stir to combine and wilt the spinach.

Next, add the crab and shrimp and cook for about a minute, until shrimp just begin to turn opaque.

Remove from heat. (the shrimp will continue to cook in the pan)

Stir in your cream cheese, Gouda, and Gruyere and a sprinkle of paprika, and pop the entire skillet in the EGG.

Bake for about 15 minutes until bubbly and golden.

Remove skillet from the EGG, give it a moment to cool, and dive on in with your favorite crusty baguette.

---