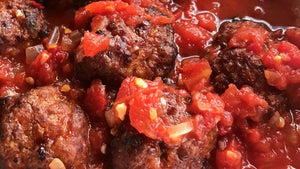 SMOKED SPANISH MEATBALLS
---
Recipe courtesy of melissacookston.com
When you're looking for an awesome appetizer, give these Smoked Spanish Meatballs a try!  With ground pork and chorizo, these pack a lot of flavor in a small package, whether smoked or not.
Ingredients for Meatballs
1 lb ground pork
1/2 lb ground chorizo
1  TBS  minced garlic
2 TBS  onion minced
2  TBS Italian parsley chopped fine
1 cup bread crumbs
2 eggs beaten
1/4 cup milk
Ingredients for Sauce
1 TBS olive oil
2 TBS minced garlic
1/2 onion chopped
1 28oz can diced tomatoes
2 TBS piquillo peppers (jarred) diced
2 TBS Sugar
1 tsp salt
2 tsp  paprika
1/2 tsp chipotle chili powder
2 TBS green onions chopped, for garnish
Method
Set your Big Green Egg to run at 300°F with a couple of chunks of your favorite wood.
For the Meatballs
Mix eggs and milk in a small bowl. Set aside.
To a large bowl, add pork, chorizo, garlic, onion, parsley, breadcrumbs, parmesan, and paprika. Mix well. Add milk and eggs and mix.
Moisten your hands and form into meatballs approximately 1" in diameter. After rolling, place on the cooking grid.
Allow to cook for 1 hour, rotating rack after 30 minutes, or until internal meatball temperature reaches 160 degrees.
Place meatballs in an aluminum "half pan" and add sauce, allowing to cook for an additional 20 minutes.
Remove from cooker and serve.
For the Sauce
Add olive oil to a saucepan over medium heat, then add onions and cook for 2-3 minutes.
Add garlic and continue to cook for 2-3 minutes or until garlic starts to get golden.
Add tomatoes, piquillo peppers, salt, chipotle powder, sugar and paprika and bring to a low boil, then reduce to a simmer.
Simmer for 20 minutes, then using an immersion blender, pulse to smooth out the sauce (I don't want it completely smooth.)
You may also use a regular blender or food processor for this.
Set sauce aside until meatballs are ready to put in pan.
---