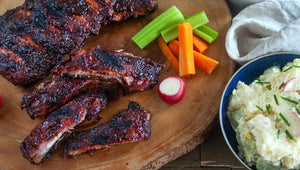 SMOKEY MAPLE RIBS
---
INGREDIENTS
4 racks baby-back ribs, trimmed
Rub
1½ tbsp. dehydrated garlic
1 tbsp. coarse sea salt
1 tbsp. smoked paprika
2 tsp. dried thyme
2 tsp.onion powder
1 tsp. cayenne pepper
2 tsp. freshly ground black pepper
2 tsp. dried parsley
¼ cup packed brown sugar
Sauce
1 pkg Smokehouse Maple Wet Rub by Club House La Grille
½ cup dry garlic sparerib sauce
2 tbsp. maple syrup or honey
METHOD
The day before, combine the rub ingredients in a bowl. Remove the silver-skin from the back of each rack of ribs, then dust each rack with the seasoning mix. Place the ribs onto a wire rack over a baking sheet and allow the ribs to dry in the fridge overnight.
When you are ready to start, fill the Napoleon Smoker Tube with your favorite flavor of wood chips, lift the cooking grids and place the Tube onto the sear plates of your grill.
Preheat the grill to between 250°F and 300°F using one or two burners, including the one that has the smoker tube over it.
When the grill is warmed and the tube is smoking a little, place the ribs onto the cooking grids, making sure that they are not over direct heat. Cook them slowly using indirect heat for two to three hours, or until a nice bark has formed on the outside and a meat thermometer registers between 150°F and 160°F. You will need to change the wood chips a few times.
Once the ribs are tender and smoky, remove them from the grill to rest while you preheat the grill to 450°F+ for searing.
In a bowl, combine the wet rub, sparerib sauce, and syrup. Brush the ribs with the sauce mixture and then sear them over direct heat for 2 to 5 minutes per side, until the sauce has caramelized and the ribs have sear marks on them. Be careful not to burn them at this point.
Serve the ribs immediately with a delicious potato salad and cut vegetables.
---