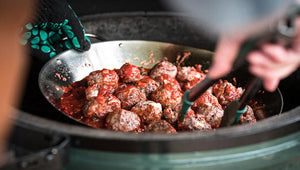 SPAGHETTI with STUFFED MEATBALLS
---
The stuffed meatballs turn this spaghetti recipe into something quite special. It is very easy to make, it doesn't take long and the stuffing in the meatballs will give your guests a pleasant surprise. The next time you invite them to dinner they will probably look forward to eating the same one-pan pasta dish from the Big Green Egg - with the delicious tomato sauce, of course!
INGREDIENTS
14oz of spaghetti (dry)
grated Parmesan cheese to taste
For the Meatballs:
18oz of minced beef
2 tbsp finely chopped oregano
2 tbsp finely chopped basil
1½ tbsp finely chopped rosemary
1½ tbsp finely chopped sage
1½ tbsp mustard
1 egg
1 tbsp breadcrumbs (optional)
½ bag of mini mozzarella balls (5-6oz)
4oz of cherry tomatoes
3 tbsp olive oil
For the sauce:
2 shallots
2 cloves of garlic
½ red chili pepper
1 bunch of basil
18oz tomato puree
2 tbsp olive oil
1½ tbsp balsamic vinegar
METHOD
Ignite the charcoal in your Big Green Egg and heat, with the grid, to a temperature of 320°F.
Meanwhile, place the meat for the meatballs in a bowl and mix in the finely chopped oregano, basil, rosemary, and sage. Knead the mustard, the egg and pepper and salt to taste into the mince. Add breadcrumbs if the mixture feels too wet.
Shape the minced beef into balls around 2oz and flatten them into rounds. Carefully press a mini ball of mozzarella or a cherry tomato into the mince and wrap the mince around it. Make sure the mozzarella or tomato is well covered and then roll between the hands to form nice round meatballs. Halve the leftover tomatoes and use these for the sauce.
Peel and finely chop the shallots and garlic for the sauce. Remove the stem and seeds from the chili pepper and slice the flesh into thin rings. Pluck the leaves off the sprigs of basil.
For the meatballs, heat the olive oil in the Stir-Fry & Paella Grill Pan on the Big Green Egg. Fry the meatballs for 5-6 minutes until golden brown all over. Whenever you turn the meatballs, close the lid of the EGG afterward to ensure a constant temperature.
Spoon the meatballs out of the pan and heat the olive oil for the sauce in the Stir-Fry & Paella Grill Pan. Sauté the shallots briefly, then add the garlic, chili and halved cherry tomatoes and fry for another minute.
Pour the passata into the pan and add most of the basil leaves, keeping some back for decoration. Heat for about 5 minutes with the lid closed, stirring regularly.
Add salt and pepper to taste, and stir the balsamic vinegar into the sauce. Replace the meatballs in the pan and heat for another 5 minutes. In the meantime, cook the spaghetti according to the instructions on the packaging.
Distribute the spaghetti over the plates and top with the meatballs and sauce. Sprinkle with grated Parmesan cheese to taste and garnish with the remaining basil.
---