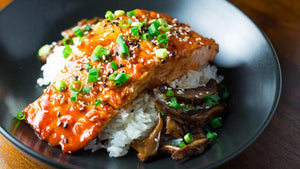 SPICY KOREAN SALMON
---
Recipe adapted from thebbqbuddha.com
INGREDIENTS
2 Lbs Salmon (skin off)
2 Tbls Honey
2 Tbls Rice Vinegar
1 Tbls Gochujang
1 Tbls White Miso
1 Tsp Soy Sauce
2 Garlic cloves (minced)
1 Tsp Ginger (minced)
1 Tsp Sesame Oil
METHOD
Mix together the Honey, Rice vinegar, Gochujang, Miso, Soy sauce, Garlic, Ginger, and sesame oil.
Preheat the grill and salt block gently warming it to 350°
Glaze the top half of the salmon with the mixture.
Once the salt block and grill are preheated place the salmon filets on the salt block.
Cook the salmon for 5 minutes and turn over.
Glaze the salmon again.
Once the filets have cooked for 5 minutes (or when they hit 120°) pull them off.
Glaze one more time, rest, and serve.
---