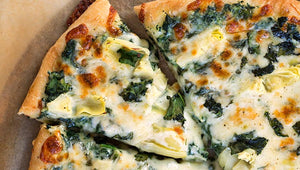 SPINACH & ARTICHOKE PIZZA
---
INGREDIENTS
CRUST
1 1/2 cups lukewarm water
2 tablespoons olive oil
2 teaspoons salt
4 cups King Arthur Perfect Pizza Blend or King Arthur Unbleached All-Purpose Flour
2 teaspoons instant yeast
TOPPING
1 cup cream cheese
1/2 cup sour cream
1 tablespoon Pizza Seasoning (or the dried herbs of your choice)
2 teaspoons finely chopped garlic
14-ounce can artichoke hearts, drained and roughly chopped
8 ounces cooked, chopped spinach, drained of excess water (defrosted and squeezed dry if frozen)
1/4 cup grated Parmesan cheese
2 cups grated mozzarella cheese
INSTRUCTIONS
To make the crust: Mix and knead all of the ingredients to make a smooth, pliable dough. Cover the dough and let it rise at room temperature for 30 minutes.
Preheat the EGG to 450°F for indirect heat with the convEGGtor. 
Divide the dough in half, and pat each half into a 12" circle. Transfer the crusts to parchment, and let them rest for about 20 minutes.
To make the filling: Slowly beat the cream cheese until smooth.
Mix in the sour cream, Pizza Seasoning, and garlic, then the artichoke hearts, spinach, and Parmesan.
Transfer the crusts on their parchment to the baking stone, and bake for 5 minutes; you'll probably need to bake them one at a time, so keep the second one covered while the first one bakes.
Remove the crusts from oven. Spread half the topping onto each pizza, and sprinkle with the mozzarella.
Bake the pizzas for an additional 15 minutes, until their crust is golden and the topping is bubbly.
Remove from the oven, and serve hot.
Yield: two 12" pizzas.
TIPS FROM OUR BAKERS
The dough can be prepared ahead of time and left to rise in the refrigerator for 4 hours, or up to overnight.
If you don't have a baking stone, place the crusts on lightly greased or parchment-lined baking sheets. Bake them first on a lower rack; then, once you've added the topping, on an upper rack.
---