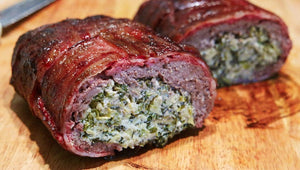 SPINACH ARTICHOKE SMOKED FATTY w/ BACON WEAVE
---
Recipe adapted from jesspryles.com
INGREDIENTS
16 oz ricotta cheese
6 oz frozen chopped spinach (thawed & drained)
8 oz canned artichoke hearts, chopped
2 cloves garlic, crushed
4 oz shredded parmesan or asiago cheese
2 tablespoons Hardcore Carnivore Amplify
2 teaspoons kosher salt
juice & zest of a small lemon
2 lb ground beef (80/20 is recommended)
24 oz sliced bacon
INSTRUCTIONS
Start by making the filling. In a bowl, combine the ricotta, parmesan, garlic, artichoke, lemon zest & juice and Amplify. Add half the salt and mix thoroughly, then set aside. Taste, and adjust seasoning as needed.
Lay a piece of cling wrap on a cutting board to make the bacon weave (this makes it easier to wrap). Create the bacon weave by placing one strip of bacon down, then lay additional strips horizontally, alternating the end piece above or below the additional strip. Repeat, adding in more strips of bacon until a square weave has been formed.
Gently press the ground beef into an even layer on top of the bacon, leaving a 1/2" border. Don't press too firmly - you'll move the weave beneath. Sprinkle the beef layer with the remaining salt. Lay the ricotta mixture down the center of the fatty, creating a cylinder shape. Use the cling wrap to lift up the sides of the fatty, and gently form them around the filling. Press it together to seal, then adjust the bacon strips over the very ends to seal them in. Place on a plate, seal side down and refrigerate for 30-60 minutes to set.
While the fatty sets in the fridge, set up your EGG for indirect cooking (convEGGtor legs up) at 250°F.
Place the fatty onto the cooking grid, and cook for 2 hours, or until the bacon is completely rendered and mahogany brown
When cooked, gently remove, slice and serve!
---