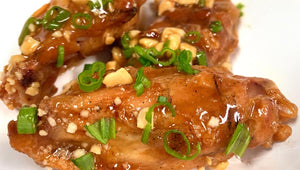 SPRINGFIELD CASHEW CHICKEN WINGS
---
INGREDIENTS
24 chicken wings
2 cups Chicken Broth
2 tbsp Soy Sauce
2 tbsp Oyster Sauce
1 tbsp Sugar
1 tsp Ground White Pepper
4 tbsp corn starch
1/4 cup Water
Crushed Cashews
Spring Onions
INSTRUCTIONS
Set the EGG for indirect cooking at 450°F/232°C.
Mix your water and corn starch together and make a slurry.
In a large saucepot or dutch oven, combine the chicken broth, soy sauce, oyster sauce, sugar, and white pepper over high heat until boiling.
Slowly add the corn starch slurry until you reach your desired thickness. Remove from heat.
Place the chicken wings directly onto the cooking grid and roast the wings for 10 minutes per side.
Remove the wings from the EGG, toss in your cashew sauce, sprinkle with the crushed cashews and chopped spring onioins. 
Serve immediately.
---