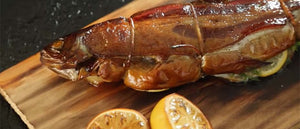 STEVE RAICHLEN'S SMOKED PLANKED TROUT
---
Ingredients
4 whole trout (12 to 16 ounces each)




Sea salt and freshly ground black pepper




16 whole fresh basil leaves




1 lemon, thinly sliced and seeded, plus 4 half lemons for smoking and serving




2 tablespoons cold unsalted butter, thinly sliced




8 thin slices pancetta or prosciutto



Instructions
Set up your Big Green Egg for direct grilling (no convEGGtor) and preheat to 450-650°F/232-343°C.

Grill the planks until lightly singed on both sides, 2 minutes per side. Let cool.




Rinse the trout, inside and out, under cold running water, then blot dry, inside and out, with




paper towels. Generously season the trout inside and out with salt and pepper. Place 3 to 4 basil leaves, lemon slices, and butter slices in the cavity of each trout.




Tie two pieces of pancetta to each trout, one on top, one on the bottom, using 3 pieces of butchers' string to secure them.

Arrange the trout on the grilling planks and place a half lemon on each plank.




Meanwhile, adjust the vents on your Big Green Egg to reduce the temperature to 350°F/177°C.




(Less air means lower temperatures.) Arrange the planks on the EGG grid.




Smoke-roast the trout until the pancetta is sizzling and crisp and the trout is cooked through




(140°F/60°C degrees in the center), 15 to 20 minutes at 350°F/177°C.




Serve the trout on the planks with the smoked lemons for squeezing.



Serves 4.
---