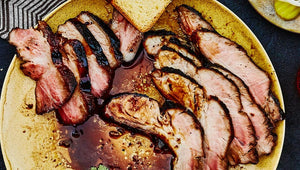 STICKY-SWEET PORK SHOULDER
---
INGREDIENTS
Pork
2 heads of garlic, cloves separated, peeled
1 wide 6" piece ginger, peeled, chopped
1 cup hoisin sauce
¾ cup fish sauce
⅔ cup honey
⅔ cup Shaoxing (Chinese rice) wine
½ cup chili oil
⅓ cup oyster sauce
⅓ cup toasted sesame oil
1 4–5-lb. skinless boneless pork shoulder (Boston butt)
Kosher salt
Glaze and Assembly
¾ cup (packed) dark brown sugar
1 Tbsp. mild-flavored (light) molasses
Bread-and-butter pickles, white bread, cilantro, and rinsed thinly sliced white onion (for serving)
METHOD
Pork (the day before you plan on cooking)
Purée garlic, ginger, hoisin sauce, fish sauce, honey, wine, chili oil, oyster sauce, and sesame oil in a blender until very smooth.
Place 1½ cups in a small bowl for glaze; cover and chill until ready to use. Pour remaining marinade into a resealable plastic bag.
Place pork shoulder, fat side down, on a cutting board with a short end facing you.
Holding a long sharp knife about 1"–1½" above cutting board, make a shallow cut along the entire length of a long side of shoulder. Continue cutting deeper into the meat, lifting and unfurling with your free hand, until it lies flat (it's better to end up with 2–3 even pieces than 1 uneven piece).
Add to bag with marinade and seal, pressing out air. Work pork around inside the bag to coat with marinade.
Chill at least 8 hours and up to 1 day.
Light your charcoal and prepare the EGG for indirect cooking at 350°F. 
Remove pork from marinade, letting excess drip off. Lightly season all over with salt. Cover and roast pork until an internal temperature at the thickest part registers between 140°–145°. 
Transfer to a cutting board and let rest at least 20 minutes.
---