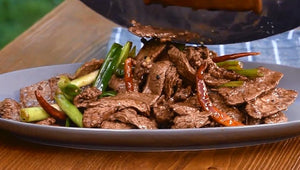 STIR-FRY SZECHUAN BEEF
---
Chef Gavin from Certified Angus Beef shares his recipe for Stir-Fry Szechuan Beef.
Ingredients
1 pound beef flank steak, cut against grain into ¼-inch thick strips
4 tbsp soy sauce, divided
4 tbsp rice wine (Shaoxing), divided
1 tbsp cornstarch
1 tbsp rice wine vinegar
2 tbsp canola oil
3 cloves garlic, minced
2 teaspoons Szechuan peppercorns, crushed (or 1-teaspoon of each, chili flake and black pepper)
2 tablespoons oyster sauce (or hoisin sauce)
10 small red chilies, halved and seeded
4 scallions, cut into 2-inch segments
Instructions
Combine 2 tablespoons soy sauce, 2 tablespoons rice wine, cornstarch and rice wine vinegar in a mixing bowl; whisk together. Add sliced flank steak and marinate for 30 minutes to 1 hour.
Set the EGG for direct cooking without the convEGGtor at 500°F.
Remove steak strips from marinade, pat dry and discard marinade. Heat the oil in a Big Green Egg wok; add beef strips and stir constantly for 2-3 minutes to cook evenly.
Stir in garlic and Szechuan peppercorns and stir-fry another minute. Reduce heat to medium, add remaining soy sauce, rice wine, oyster sauce, chilies, and scallions.
Sear 3-4 minutes, stirring often until sauce thickens and glazes meat. Enjoy!
---