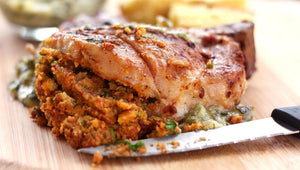 STUFFED PORK CHOPS w/ POBLANO CREAM SAUCE
---
INGREDIENTS
For the cornbread:
2 cups all-purpose flour
1 tablespoon baking powder
1 teaspoon kosher salt
1 cup stone-ground yellow cornmeal
1/2 cup granulated sugar
3 large eggs
8 tablespoons unsalted butter, melted
2 cups heavy cream
For the poblano cream sauce: 
2 poblano peppers
1 teaspoon garlic, minced
1/2 cup chicken stock
1-1/2 cups heavy cream
1/4 cup yellow cornmeal
1 tablespoon lime juice
1/2 cup fresh cilantro, chopped
For the pork chops: 
4 double-cut pork chops
1 tablespoon olive oil
1 cup firmly packed cornbread (recipe included)
1/2 cup smoked chorizo sausage, chopped
1/2 cup fresh cilantro, chopped
1/2 cup chicken stock
For the pork chop rub: 
4 tablespoons Big Green Egg Sweet & Smoky Seasoning
METHOD: 
To make the cornbread
Set up your EGG for direct grilling at 425°F. In a large bowl, mix together all cornbread ingredients. Pour the batter into a greased 9x13 baking dish. Bake for 35 minutes or until cornbread is cooked through. (NOTE: You will have extra. This is a good thing). 
To make the poblano cream sauce: At 425°F, roast poblanos in your EGG turning occasionally until black on all sides. Transfer to a Ziplock bag; seal and let them steam inside for 5 minutes. 
Remove the seeds from the peppers, then dice. In a small saucepan on the stovetop over medium heat, combine the peppers, garlic, stock and cream; simmer for 15 minutes.
Using a whisk, add the cornmeal; cook for another 7 minutes or until sauce has thickened. Remove from heat and add lime juice and cilantro. Keep warm. 
To make the pork chops
In a small bowl, combine all ingredients for the pork chop rub. 
Cut a 1-1/2 to 2-inch long pocket along the meat side of each pork chop. Season with olive oil and 1 tablespoon of the rub. Crumble the cornbread into a small bowl; add the chorizo, cilantro and stock; mix well. Stuff the pocket of each pork chop with 1/4 of the stuffing. 
Place pork chops on the cooking grid. Close the lid and grill for 3 minutes per side. Close the top and bottom vents, and roast the chops for 12 to 15 minutes, until a food thermometer registers 145°F or the desired doneness.
Transfer the pork chops to a platter, top with the sauce, and serve immediately. 
---