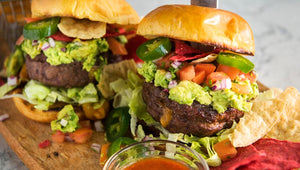 STUFFED TACO BURGERS
---
Taco Stuffed Burgers take the typical taco fixings and morph them into a cheesy stuffed burger! The burger has major Southwestern flair that will be the star at your summer BBQ!
INGREDIENTS
1 lb. medium Ground Beef
2 tbsp. Taco Seasoning
3 oz. Cheddar Cheese – Shredded
3 oz. Monterey Jack Cheese – Shredded
Kosher Salt
Crushed Black Pepper
Pico De Gallo
1 cup finely chopped red onion
¼ cup lime juice
¾ tsp. kosher salt
1 ½ lbs. Roma tomatoes, Medium Dice
½ cup finely chopped fresh cilantro
Simple Guacamole
2 ripe avocados
1/2 tsp. Kosher salt
1 tbsp. fresh lime juice or lemon juice
2 tbsp. cilantro, finely chopped
Black pepper to taste
METHOD
Combine Beef and seasoning. Mix well. 
Lightly coat all pieces of the burger press with water to prevent sticking. Do this for every step. 
Divide ½ a pound of your meat mixture into thirds, then place 2/3 of the meat into the bottom of the burger press.
Press the meat down using the indenting form to create a cavity. 
Combine Monterey Jack and Cheddar cheese, form into 1.5 oz balls, flatten into medallions. Place in the center of the meat in the press form. 
Take the remaining ⅓ of meat that you set aside and flatten it out so that it covers the fillings and meat already in the press. Reattach the larger press to the handle and flatten the burgers. 
Remove the burger from the press by pushing the bottom plate up. Remove the formed burgers from the press. Repeat process for remaining burgers. 
Grill your burgers over direct, medium-high heat, around 450°F to 500°F for 5 to 7 minutes per side, flipping only once. Check the internal temperature of meat, for 160F internal temperature. 
Toast Brioche Buns lightly on grill. 
Assembly; bottom to top: Bun, Lettuce, Burger(s), Guacamole, Pico de Gallo, Jalapenos, Terrys Hot Sauce, crushed corn tortillas, Bun. 
For the Pico de Gallo
In a medium serving bowl, combine the chopped onion, lime juice, and salt. Let it marinate while you chop the tomatoes and cilantro.
Add the chopped tomatoes and cilantro to the bowl and stir to combine. Season to taste.
For the Guacamole
Combine ingredients and mash with a fork.
---