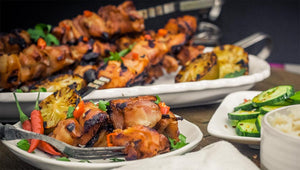 THAI GRILLED CHICKEN SKEWERS
---
Nothing says summer fun like saucy, smoky, grilled meat on a stick. These Thai Grilled Chicken Skewers also known as Gai Yang. Served with fluffy coconut rice, and a light Thai cucumber salad, this meal is perfect for dining al fresco while sipping a cool beverage.
INGREDIENTS
8 to 10 boneless chicken thighs
1 package oak wood chips for smoking
1 Napoleon Stainless Steel Smoker Pipe or Smoker Box
3 limes 
2 red chilis, sliced
3 cups cooked coconut rice 
Cilantro for serving
Marinade
1 large lemongrass stalk
6 cloves garlic
2 tbsp. lime juice + zest
2 red chili, finely chopped
3 tbsp. fish sauce
2 tbsp. sake
1 tsp. sesame oil
3 tbsp. brown sugar
2 tbsp. honey
½ tbsp. black pepper
DIRECTIONS
Slice the chicken thighs into bite-sized chunks and set aside. 
In a large bowl combine all of the marinade ingredients. Add the chicken and marinate in the fridge for at least 3 hours up to overnight. 
Remove the cooking grids and sear plates on one side of the grill. Replace the cooking grids with the Napoleon Stainless Steel Smoker Box (or use the Pipe on top of the sear plates). 
Preheat the grill to around 400°F. 
Remove the chicken from the fridge and thread it onto skewers, slice the remaining 2 limes in half. 
Grill the chicken and lime halves over direct heat for 3 to 4 minutes per side, until an internal temperature of 165°F is reached, there are nice grill marks have formed on all sides and they're lightly smoky. 
Serve the chicken skewers over hot coconut rice with your favorite side dishes, like Thai cucumber salad. 
---