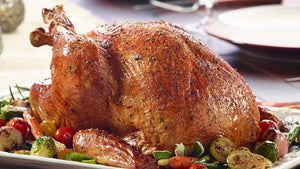 THE PERFECT ROASTED TURKEY
---
We're not sure when the first person decided to include the Big Green Egg in our November holiday tradition, but we do know that the EGG can make it a memorable Thanksgiving meal! If you have holiday entertaining on your schedule, look no farther than this collection of special holiday ideas.
Ingredients
1 turkey, cleaned thoroughly

poultry seasoning

1 whole onion cut in half

1 stalk celery

2 cups chicken broth, wine or water

Instructions
Set the EGG up for indirect cooking with the convEGGtor at 325°F/163°C. Use a handful of pecan chips for a light, smoky flavor and to provide a deep brown color to the turkey.

Spread the seasoning generously over the outside of the bird. Load the bird onto a Vertical Poultry Roaster or Rib and Roasting Rack, then place into a drip pan. Add the onion and celery to the drip pan. Fill the pan with chicken broth, wine, or water.

Cook for 12 minutes per pound until the turkey has reached a safe minimum internal temperature of 165°F/74°C throughout the product. Reserve the drippings from the drip pan to make gravy.

---