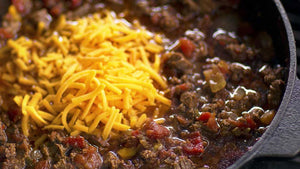 TRI-TIP CHILI
---
Tri-Tip Chili with Ancho Chili and Coffee Seasoning made in a Dutch Oven on the Big Green Egg.
Recipe courtesy of Taylor Shulman, Big Green Egg Culinary Center
Ingredients
3 lbs. tri-tip beef

2 lbs. ground chuck

1 lb. Anaheim peppers, seeded

1 sweet onion, diced

3 14-oz cans crushed tomatoes

2 tbsp cocoa powder

¼ cup flour

4 tbsp Big Green Egg Ancho Chile and Coffee Seasoning

Instructions
Set the EGG for direct cooking without the convEGGtor at 500°F/260°C.

In a Big Green Egg Dutch Oven, cook the onions until translucent, then add the ground chuck and cook until browned. Strain off any fat then add the tomatoes, cocoa powder, flour, and seasoning; mix well. Remove the Dutch oven from the EGG.

Place the whole peppers on the grate and roast them until the outside is blistered and charred, place them into a resealable bag and let them rest for about 5 minutes. When cooled, using a paring knife, remove the seeds and veins and scrape the char off of the skin. Dice the peppers and add them to the Dutch oven.

Cook the tri-tip for 5 minutes per side then allow it to rest 10 minutes, slice the beef and add it to the Dutch oven.

Reset the EGG for indirect cooking with the convEGGtor at 300°F/149°C. Add the Dutch oven and cook uncovered for 1 hour. Serve with cheese and sour cream.

---