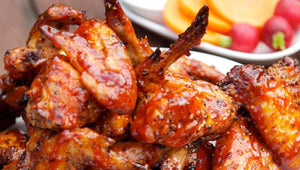 TUMBLE BASKET BUFFALO WINGS
---
INGREDIENTS
4 lbs. chicken wings, tips removed, halved at the joint
¼ cup hot and spicy seasoning and rub
Sauce
1 tbsp. vegetable oil
1 small onion, finely diced
2–3 Scotch bonnet chiles, seeded and minced (optional)
2 green onions, thinly sliced
1 jarbuffalo sauce, or your favorite sauce
½ cup liquid honey
1 tbsp. Worcestershire sauce
1 tbsp.fresh cilantro, chopped
Salt and freshly ground black pepper to taste
Chunky Blue Cheese Dip
1 cup mayonnaise
1 cup sour cream
¼ cup cold water
2 tbsp. lemon juice
1 cup crumbled blue cheese
2 tsp. Worcestershire sauce
½ tsp. salt
2 green onions, finely chopped
Freshly ground black pepper to taste
METHOD
Rinse the wings in cold water and pat dry with paper towels. Place in a large bowl and add the Hot and Spicy Barbecue Seasoning and Rub. Using your hands, rub and toss the wings to coat evenly, massaging the spices well into the meat. Cover and refrigerate for 2 hours.
For the Sauce: In a medium saucepan, heat the oil over medium heat. Sauté the onion, chiles (if using), and green onions for 3 to 5 minutes, until fragrant and tender. Add the Napoleon® Buffalo Style Injector Seasoning, honey, and Worcestershire sauce and bring to a boil. Reduce heat and simmer for 5 minutes, stirring once or twice. Remove from heat and stir in cilantro and salt and pepper to taste.
Preheat grill to medium (350°F/175°C).
Place wings in the Napoleon® Tumble Basket, attached to the rotisserie according to the manufacturer's instructions. Place a drip pan beneath the basket on the grill to catch drippings and prevent flare-ups as wings cook. Roast wings in basket for about 20 to 25 minutes, or until fully cooked, golden brown, and crisp. Whisk any drippings into the sauce.
Carefully remove wings from the basket and toss with the sauce in a bowl.
Serve with Chunky Blue Cheese Dip, celery and carrot sticks.
For the Chunky Blue Cheese Dip
In a large bowl, whisk together the mayonnaise, sour cream, water, and lemon juice.
Stir in the blue cheese, Worcestershire sauce, salt, and green onions. Season to taste with pepper.
Transfer to a sealed container and refrigerate until needed. Will keep up to a week.
---