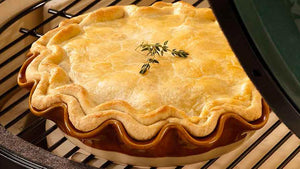 TURKEY & WILD MUSHROOM POT PIE
---
There is nothing better than a pot pie on a cold winter's night. Loaded with juicy, tender pieces of roasted turkey breast and wild mushrooms, this pie is the ultimate comfort food.
Ingredients
1½ cups mixed dried wild mushrooms

2 Tbsp unsalted butter

2 Tbsp olive oil

1 cup diced onions

1 cup diced carrots

1 cup diced celery

2 Tbsp minced garlic

⅓ cup all-purpose flour

¼ cup white wine

3 cups low-sodium chicken stock

1 cup diced potatoes

1 tsp minced fresh thyme

1 cup frozen green peas

2 cups chopped roasted turkey breast

1 (9-inch) deep-dish pie shell and 1 pie dough disk

1 large egg

1 tablespoon water

Instructions
Set the EGG for direct cooking without the convEGGtor at 375ºF. Place the Dutch Oven on the grid to preheat for 10 minutes.

Cover the mushrooms with hot water and let rehydrate until needed. Heat the butter and olive oil in the Dutch Oven. Add the onions, carrots, and celery. Close the lid of the EGG and cook uncovered for 5 to 6 minutes, until the vegetables are light brown and softened. Add the garlic and stir for 1 minute, then add the flour and stir. Add the wine and cook for 3 minutes.

Drain the mushrooms, reserving the liquid. Add the chicken stock and the reserved mushroom liquid to the Dutch Oven and stir well. Add the potatoes. Close the lid of the EGG and continue cooking, covered, for 10 minutes, or until the potatoes are cooked through. Add the reserved mushrooms, thyme, peas, and turkey, stir, and cook for 2 to 3 more minutes. Remove the Dutch Oven from the heat and let cool for 15 minutes.

Using the Grill Gripper and barbecue mitts, carefully remove the grid and add the convEGGtor. Replace the grid and raise the EGG temperature to 400ºF.

Spoon the filling into the pie shell. Roll out the pie dough disk on a lightly floured surface until it is large enough to cover the top of the pie. Unroll the pie dough onto the pie. Press the top and bottom edges of the dough together and crimp. Using a knife, cut four small slits on the top of the crust. Beat the egg with the water and brush the top with the egg wash.

Place the pie on top of the grid and close the lid of the EGG. Cook for 30 to 40 minutes, until the dough is light brown and the filling is hot and bubbling. Let rest for 5 minutes before serving.

Serves 4 to 6
---