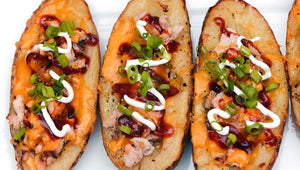 TURKEY POTATO SKINS
---
Ingredients
6 small to medium sized russet baking potatoes (total 3 pounds)
Extra virgin olive oil
Kosher salt
Freshly ground pepper
1 cup cooked turkey, chopped
4 ounces grated cheddar cheese
6 strips of bacon, cooked and crumbled
Big Green Egg Vidalia Onion Sriracha Barbecue Sauce
½ cup sour cream
2 green onions, thinly sliced (include the greens)
Instructions
Set the EGG for direct cooking without the convEGGtor at 400°F/204°C.
Pierce the potatoes a few times with a sharp knife rub with olive oil and bake for about an hour until the potatoes are cooked through and give a little when pressed.
Remove the potatoes from the EGG and let cool enough to handle. Cut in half horizontally, then use a spoon to carefully scoop out the insides, leaving about ¼ inch of potato on the skin. Brush olive oil over the potato skins, outside and in. Sprinkle with salt. Cook for 10 minutes on each side (20 minutes total). Remove and let cool enough to handle.
Mix together the turkey, cheddar cheese, and crumbled bacon. Add salt and pepper to taste. Stuff the skins with the mixture, then return them to the cooking grid and bake for an additional 2-4 minutes, or until the cheese is bubbly. Remove from heat.
Drizzle with Big Green Egg Vidalia Onion Sriracha Barbecue Sauce. Then top with sour cream and green onions. Serve immediately.
---