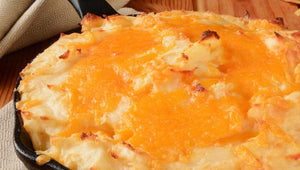 TURKEY SHEPHERD'S PIE
---
Ingredients
2 tbsp butter
½ cup yellow onion, chopped
1/3 cup celery, chopped
1/3 cup carrots, chopped
1 clove garlic, minced
2 cups cooked turkey
½ cup green beans
½ tsp salt
½ tsp ground black pepper
½ tsp dried thyme
½ tsp dried basil
1 cup gravy
2 cups mashed potatoes
4 oz shredded cheddar cheese
Instructions
Set the EGG for indirect cooking with the convEGGtor at 350°F/177°C.
Melt the butter in a cast iron skillet. Add onion, celery and carrots, cooking and stirring occasionally until the onions are translucent. Add minced garlic, cooking for an additional minute. Add the turkey, green beans, seasonings and gravy; cook until heated through.
Heat mashed potatoes until lukewarm and easy to stir. Add half of the shredded cheese to the potatoes, stir to combine. Spread mashed potatoes over the turkey filling in the cast iron skillet. Sprinkle with remaining cheese. Place the skillet back in the EGG and bake for 30 minutes. Serve warm.
Serves 4-6
---