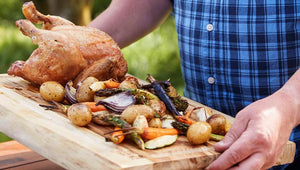 ULTIMATE ROAST CHICKEN
---
This recipe is a superb example of how the Big Green Egg breathes magic into your meals. A simple chicken with salt and olive oil applied, then roasted within the EGG, delivers amazingly tasty results.
INGREDIENTS
4-10lb free range chicken
6-8 carrots, skins peeled
3 red onions, quartered
Broccoli
New potatoes
Olive Oil
Sea Salt
Black Pepper
METHOD
Set up your EGG for INDIRECT cooking with the ConvEGGtor (legs up). We also use the stainless steel vertical chicken roaster and drip pan, however, placing the chicken directly on the stainless steel grid will do the job perfectly as well.
Dial in your EGG for a target temperature of 350°F.
FOR THE CHICKEN
Make sure the giblets are removed, pat the skin dry and then coat in olive oil. Season liberally with flakey sea salt.
You can add a prepared herb mix straight on to the skin or if you're feeling adventurous or make your own herb butter and stuff it under the skin. Thyme, rosemary, Garlic, and parsley are always winners.
Place the chicken on to the Vertical Chicken Roaster by inserting the roaster into the chicken cavity.
Place the seasoned chicken on the roaster and into the round drip pan to catch all the juices.
The EGG should already be set up for indirect cooking, with ConvEGGtor and either a stainless steel vertical chicken roaster or a stainless steel grid.
Add the vertical chicken in the drip pan and place on to the ConvEGGtor surface and shut the lid, or place the chicken on the stainless steel grid. For an average sized chicken, cook time is approximately an hour.
Season with sea salt and oil your new potatoes then place around the pan under the chicken to catch the juices.
Whilst the chicken and potatoes are cooking, slice your vegetables and season well. With 15 minutes to go, tuck and arrange the vegetables in and around the potatoes.
Towards the end of the cooking period, insert an instant-read digital thermometer into the thickest part of the thigh but not touching bone to check the internal temperature. You're shooting for 165°F.
Once you've reached your target internal temperature, remove from the EGG, tent in tin foil and let rest for 10 minutes. 
Carve and wonder at the crispy skin and amazing juiciness!
---