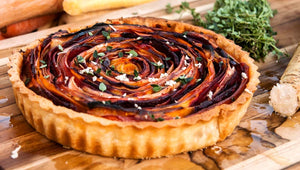 WINTER VEGETABLE VEGAN TART
---
INGREDIENTS
1 pack Vegan pastry (Rolled and placed into a 9" greased tart tin)
240g sun blushed tomatoes in oil
2 cloves Garlic
5 leaves of fresh sage
2 sprigs fresh thyme
1 small squash
3 carrots
2 large beetroot
1 large parsnip
Thumb size piece of fresh horseradish.
Olive Oil
METHOD
Firstly, line the tartlet case by lightly greasing with a pastry brush and vegetable oil. Roll out the pastry to a thickness of 2mm then line the tart case, using the excess to push the pastry into the corners, letting the edges to drape over slightly. These can be trimmed off later. Place covered into the fridge to rest for 1 hour.
Time to light your Egg. Set up indirect with a baking stone on top of the stainless-steel grid, here we have used our new EGGspander System. Your EGG target temperature is 180c.
After an hour in the fridge, line with parchment paper and fill with dried pulses or baking beans to blind bake. Place in Egg and cook until the case starts to go golden around the edges then remove and place to 1 side to cool. (Remove parchment and blind bake).
Using a mandolin or a speed peeler, slice the carrots, parsnip, beets squash lengthways as thinly as possible, place to one side.
Take sun plush tomatoes, garlic and sage leaves, place into a blender and puree (loosen slightly with some of the oil from the tomatoes). This can then be seasoned to taste.
Now add ⅔'s of the pesto to the pastry case and spread evenly over the bottom.
Drain any liquid from the vegetables and gently mix through the remaining pesto. Starting from one end, roll into a spiral the ribband vegetables working from the inside out and alternating the colours. Then wrap these around the spiralled veg in the centre. Continue until the tart is full and you have created a rose effect.
Bake in the Egg for 40-45 mins until the vegetables are tender. We found this worked best when lifting to the top layer of the EGGspander but still works on the baking stone perfectly well. Check the tart after 20 minutes or when the pastry is golden, you can remove if ready earlier.
Once out of the EGG and resting, sprinkle with fresh thyme grated fine fresh horseradish and drizzle with good extra virgin olive oil.
Serve Hot or cold with wintery salad leaves or a warming side dish.
SERVES 4-6
---