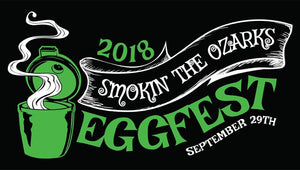 2018 EGGfest - September 29th
---
September 29th, 2018 | 10:00AM-3:00PM
Outdoor Home | 882 W Tracker Rd | Nixa, MO
---
Savor delicious food, learn new techniques from seasoned EGGheads, and discover what the Big Green Egg-sperience is all about during the
2018 Smokin' the Ozarks EGGfest

at Outdoor Home in Nixa, Missouri!
---
WHAT IS EGGFEST?
The Smokin' the Ozarks EGGfest is a charitable event dedicated to the Ultimate Cooking Experience... better know as the Big Green Egg! EGGheads (Big Green Egg Enthusiasts) will travel from all over the region to enjoy delicious food that only a Big Green Egg can produce, along with live music, cooking demonstrations, and few tasty beverages. At our EGGfest, "Tasters" will sample savory & sweet grilled meats, seafood, veggies, pizzas, and desserts cooked up by EGGfest "Cooking Teams" as they show off their unique recipes and grilled specialties for everyone to savor.
MOST IMPORTANTLY, our EGGfest is a charity event that directly benefits the Keystone Kops Unit of Springfield. All net proceeds from the 2018 "Smokin' the Ozarks" EGGfest go directly to this fantastic organization that provides lodging and transportation assistance for children and their families during their care at Shrine Hospitals across the area.
TASTER TICKETS
EGGfest tickets are now only available to purchase at our showroom or day-of at the event gate.
"Early-Bird" Taster Tickets are available through September 9th.
A Taster Ticket to EGGfest grants you access to unlimited food samples from our EGGhead Cooking Teams performing their unique recipes on dozens of Big Green Eggs. Last year we had over 40 EGGfest Cooking Teams and well over 150 Cooks all working diligently to constantly provide their best dishes for the crowd. Whether you're a veteran EGGhead or just love food, festivals, and fun - there's plenty for everyone!
Taster Tickets are purchased individually for $20 or as a pair for at $35, and also includes a freshly designed, Official 2018 Smokin' the Ozarks EGGfest T-Shirt with every ticket purchased before September 9th. Children 12 and under are admitted to the event for FREE!
After September 9th up to the event date, tickets will be available online and in-store for $20 per individual, but do not include an EGGfest T-Shirt. During the event, a very limited number of additional 2018 EGGfest Shirts will be available to purchase in our showroom. Parking is available within the lots West of Outdoor Home and North across Tracker Rd at the Bowling Alley. During EGGfest, we'll have event staff represented by the Keystone Kops to help assist you in finding a spot and parking your vehicle.
COOKING AT EGGFEST
For an EGGfest to be successful, we need enthusiastic EGGfest Cooking Teams!
Cooking at EGGfest is an opportunity for teams to share recipes, enjoy great food, and (most importantly) have a great time! Take turns sampling the other participants' dishes and build your repertoire with new ideas! This isn't a "high-stakes" cooking competition. If you love cooking on your EGG because it's fun and you've got some special recipes the world needs to EGG-sperience... then you'll have a blast cooking at our EGGfest.
EGGfest Cooking Teams should consist of 1-2 Team Captains with additional helpers (up to 6 total people per team). Team Captains will receive complimentary 2018 EGGfest T-Shirts (unique design), and additional shirts will be available to pre-purchase upon request when you sign up as a cooking team.
EGGfest opens to the public at 10:00am, however, we ask that Cooks arrive no later than 8:00am to unload vehicles/trailers, and set up their cooking station (approx. 12'x12' space). We'll have ample volunteers available to help teams unload and set up your stations. From 10:00am-3:00pm EGGfest Cooking Teams showcase their skills by serving-up samples of their favorite recipes throughout the day for our Taster guests to enjoy.
Cooking Teams should bring:
► Chairs & Tables
► 10x10 Pop-Up Canopy
► Cooler for storing groceries
► All ingredients needed to create your recipes
► Cooking utensils & cutting boards
► Plate-Setters & EGGcessories
► 2oz plastic ramekins, small paper plates for service
Outdoor Home will provide:
► (At least) 1 New Large Big Green Egg
► Lump Charcoal & Firestarters
► Sanitation Supplies
► Service Gloves
► Butcher Paper
► Ice for your Cooler
► (2) Special EGGFest Cook's Shirts per team
Additional notes:
► No outside alcohol is permitted unless you are using it specifically for a recipe. Adult beverages along with water/tea are sold by the charity and benefit their organization.
► Experience cooking on a Big Green Egg is required but you don't have to be an EGG-spert.
► Cooking teams should participate/cook for the duration of the event. You don't always have to be serving, but you should always be working on your next dish.
► Selling, soliciting, or merchandising of products not offered by Outdoor Home is not allowed without prior approval.
If you have any questions, feel free to contact:
Aaron Swaggerty
aaron@outdoorhome.com
417-761-7611
HOTEL ACCOMODATIONS
Hilton Garden Inn Springfield
4155 South Nature Center Way
Springfield, Missouri, 65804
417-875-8800
MEET & GREET
FRIDAY SEPT 28th 6:00pm-9:00pm
Outdoor Home is hosting a Meet & Greet event the night before EGGfest for our Cooking Teams. Details Coming Soon! Stay Tuned.
6TH Annual EGGcellent Chef Awards
Back by popular demand, the 2018 EGGfest will again feature an "EGGcellent Chef Award" competition! As Tasters enter the event they will be given 1 vote to cast for the cooking team that they feel produced the best results on the Big Green Egg.
This allows cooks to prepare a variety of recipes throughout the day and demonstrate the versatility of the Big Green Egg! All cooks are encouraged to participate, there are no special requirements or ingredients, and the winners will receive a distinguished prize!
EGGFEST EGGS
An EGGfest EGG is a Big Green Egg package that you pre-purchase prior to the event at a substantial discount. Now available in Large, XL, and 2XL sizes, these brand new Big Green Egg will be cooked on the day of EGGfest by one of our registered cooking teams, and then you pick it up at the end of the day! This is a great opportunity to buy your first Big Green Egg or add to your EGG family! All EGGfest EGGs carry the full Big Green Egg warranty, include a Rolling Nest, ConvEGGtor, and are available to PURCHASE ONLINE or IN-STORE. Limited Supply Available.
Large EGGfest EGG Package
►

Large EGG - $859.00 retail


►

Rolling Nest - $164.49 retail


► Large ConvEGGtor - $69.95 retail




►

(2) FREE Taster Tickets - $40 value


►

(1) FREE EGG Buyer T-Shirt - $15 value


►

10% OFF Everything Big Green Egg during the event


►

Comes Fully Assembled - $50 value


►

Original Full Lifetime Warranty - Priceless
RETAIL $1,198.44
$899.00
25% OFF RETAIL
XL EGGfest EGG Package
►

XL EGG - $1,199.00 retail


►

Rolling Nest - $179.95 retail


► XL ConvEGGtor - $114.95 retail




►

(2) FREE Taster Tickets - $40 value


►

(1) FREE EGG Buyer T-Shirt - $15 value


►

10% OFF Everything Big Green Egg during the event


►

Comes Fully Assembled - $50 value


►

Original Full Lifetime Warranty - Priceless
RETAIL $1,598.90
$1,249.00
22% OFF RETAIL
2XL EGGfest EGG Package
►

2XL EGG - $1,999.00 retail


►

Rolling Nest Package - $419.90 retail


► 2XL ConvEGGtor Package - $209.85 retail




►

(2) FREE Taster Tickets - $40 value


►

(1) FREE EGG Buyer T-Shirt - $15 value


►

10% OFF Everything Big Green Egg during the event


►

Comes Fully Assembled - $50 value


►

Original Full Lifetime Warranty - Priceless
RETAIL $2,733.75
$2,199.00
20% OFF RETAIL
---
EGGFEST EGG's MUST BE PICKED UP SEPT. 29TH AFTER THE EVENT HAS ENDED. NO EXCEPTIONS WILL BE MADE. PLAN ACCORDINGLY.
---
---